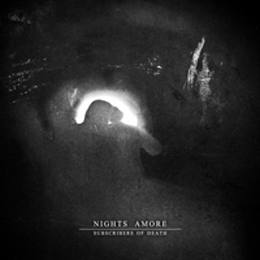 Release Date:
Sunday, December 12, 2010
Well, within 'music' it is easy to label something as 'beautiful'. It has to do with personal, subjective preferences. I won't come with a philosophical essay about this subject, but this introduction is helpful to understand what Subscribers Of Death stands for. Why? Because this simply is the aural definition for 'beautiful music'.
Nights Amore do not perform Metal whatsoever. As you might know, Immortal Frost do not focus on Black Metal only, cf. releases like Horizon …'s Don't Let The Time Pass You By (Ambient / Neo-Classical; review updated on September 21st 2014) or Vertebra by Italian Post-Rock / Metal-act Australasia (see update September 24th 2014). And this goes for Nights Amore as well. The project did two recordings before, by the way, via this nice Belgian label. This one-man project by a Swede called Chris brings instrumental Music, but it does include voices all the time. These ones, however, are taken from different (tape) recordings, though I do not always know where they do come from. It sounds like samples from movies, buy actually I think it are recordings in the vein of 'confessions' or scientific relays. I'll explain this little further. As soon as you understand the theme of Nights Amore's Aural Art, it will become more clear. The concept deals with depression, suicide, desperation and grief, expressed through beautiful classical melodies and supported by spoken words taken from, well, that's what I was talking about.
It might get more clear if I go deeper into the album itself. Subscribers Of Death opens with We Of The Suffering Kind, which brings an emotive, soulful and ambient form of Neo-Classical, mainly based on an integer piano melody, supported by floating keyboard lines. And when it comes to the 'vocal part', well, the first piece has a male voice with some statistics and facts about depression and the consequences on society (private and professional), and after four minutes a female voice joins in, but the scientific facts told by the male voice return soon. Yet throughout this whole experience of knowledge, the warm-and-cold melodies based on piano and synths keep colouring the whole atmosphere. I can imagine this description might not explain anything at all; you need to hear it, believe me. I try to explain it as much as I can. Anyway, the second track is one of the most beautiful ones on the album. The Depressive Years (Tribute To Endless Sorrow) too is based on sober, emotive piano tunes and beautiful, little mesmerising synth accords. The track also includes percussional programming, which does fit (despite my allergy for it – not in this case!). This time the 'vocals' are from a desperate woman, in grief, in sorrow, in desperation. Despite the repetitive character, you can't get unchained from this chilly composition. Ödesdöd, and so are all tracks, is also based on sober, depressing piano tunes and hypnotic / ominous / floating / suffocative / ambient keyboard support. And once again this guy called Chris easily and shamelessly succeeds to turn repetitive and sombre tunes into a very introspective, emotive yet grand(iose) aural experience. Ödesdöd, for your info, is one of the very few creations without vocal samples. Cutting Close To The Edge is little more up-tempo, at least towards the end, by adding some acoustic guitar lines, but the spoken words, dealing with the attempt to commit suicide, put your nose on the ugly fact that life indeed is not always a feast. Then comes Let Me Drown In Suicide (yes, you got it; I am about to write something that concerns each single piece on this album, simply to drive you to the final decision, eh, I mean because … just continue reading and you'll understand my passion), which might be the most plain soundscape on the album. But then, waw, When A Child Decides To Die. It has not to do with the great melodies only, but those confessions… When My Heart No Longer Beats does not integrate vocal samples, but this song lets you dream away into spheres of eternal rest and the fabulous safety of loneliness (believe me, it does!). Den Inre Fridens Sällsamma Lugn too is a non-injected piece, and probably the least interesting, but from atmospherical point of view truly nice to reach any ending (your final end?). the bonus song Age Of Suicide too is perhaps less interesting than the major part of the album, yet still I'm impressed by the soberness that grabs you in a mostly emotive way.
My conclusion, though it might be extremely subjective and personal, is that this album is fantastic! Despite being a fan of Funeral Doom, Morbid Death and Grim Black Death Thrash Black Evil Speed Black Noise Black Metal Music stuff things, I enormously enjoy this personal stuff. If you're happily unhappy, then you just need to listen to this album!