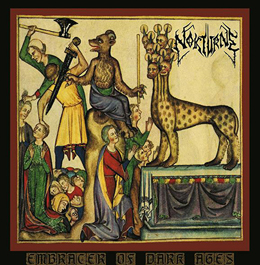 Next year Californian band Nokturne will celebrate their twentieth anniversary. So, feel free to sing a birthday-sing-along…
During the nineties, this combo recorded a couple of demos, and in 2001 the (in mean time defunct) label World War III released the band's debut full length, Embracer Of Dark Ages. It got followed in 2002 by means of Curse Of Nazarene, as well as the third full album Kruelty Kampaign (2006), several demos, EP's and even a couple of video's (as well as the highly acclaimed compilation Black Metal Kampf). This year is a very interesting one too, for Nokturne released a new album (Werwolf Blood Order, via Self Sacrifice Distro.; the band and the label did work together a couple of times before, but if I am not mistaken this is the band's own label), yet their debut album has been re-released as well, with inclusion of a bonus track.
That first full length album had been re-released on vinyl in 2007, by the way, via Anti-Xtian Terror Records, and now Lower Silesian Stronghold, once again in co-operation with Self Sacrifice Distro., release that stuff once again, including that additional song, completely re-mastered, and with new -and very attractive- medieval artwork. The total running time is fifty one minutes, including that bonus (which is the title track, by the way). Kaiser Drakon and his horde brought / bring very rhythmic and grim timelessly-traditional Black Metal, with an important role for the drums parts. These ones are placed very strongly on the foreground, and do give the whole experience that energetic, fast-forward and thunderous drive. The vocals too are of a specific kind, sounding full of sulphur and spitting venom. The riffs (read: bass and electric guitars) are little melodious, and profoundly supporting the composition-structures, which are both conventional as well as classically performed, yet also creating an aural violence supporting the Satanic glory of the late-nineties scene. Besides, Nokturne come up with some excerpts that stand far away from catchiness. The introduction on thrash-blaster Blood Purging Pentagram, for example, is a creation that breathes the most ugly, apocalyptic expression of Doom. And what to think about the instrumental intermezzo The Hated, based on acoustic guitars, which is a total contrast to the Satanic rawness of the other songs with its sober, integer performance? And oh yes, the title track that acts as bonus (originally appearing on Curse Of Nazarene), is a true monument. It's a pretty lengthy one (clocking nearly nine minutes), and somewhat different from the other songs, with some slower passages and a more technical approach.