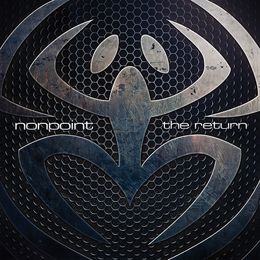 Release Date:
Friday, September 26, 2014
Nonpoint is an American heavy metal band from Fort Lauderdale, Florida. Current members are: Elias Soriano [vocals], Robb Rivera [drums], Rasheed Thomas [guitar], Adam Woloszyn [bass], and B.C. Kochmit [guitar]. The drummer Robb Rivera and Elias Soriano were the first members when they raised the group in 1997.
If I can count is "The Return" their eighth album since the first in 2000. In February 2014, NONPOINT entered Groovemaster Studios with Grammy Award-nominated producer Johnny K (DISTURBED, STAIND, MEGADETH) and engineer Daniel Salcidoto. It marked their second collaboration together, and this time, the band had already amassed an arsenal of tight and tough material. And now listening to the CD… Starting with "Pins and Needles" Starts very powerful with a crazy guitar riff. And then the raw voice of Elias this blending is fantastic. In "Breaking Skin" the second song is a lot of melody, but is still a heavy song. I can say that this album is a great album! Again a complete album with everything on it. Long time I heard a sound like this. My favorites on this album is "Forcing Hands" with this crazy guitar riff and a straight drum part! And "Never Ending Hole" what a power in this song. Don't hesitate and buy this hard copy.