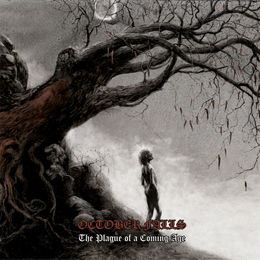 Album Title:
The Plague Of A Coming Age
October Falls were once formed as an acoustic Folk-project by Mikko Lehto. The first releases were rather traditional / classical in approach, but throughout the years the project did introduce elements from Metal in general, and Black Pagan Metal more specifically. The evolution continued by each release, and even though I do appreciate the project's earliest works a lot, I was enormously pleased with 2010's A Collapse Of Faith (the review I did is still available within Concreteweb's Archives Section; see update 15/11/2010). And the progression still goes on.
The Plague Of A Coming Age, which lasts for fifty one minutes, was recorded by Mikko (guitars and vocals) with assistance of bass player Sami Hinkka of Rapture and Ensiferum-fame, and drummer Marko Tarvonen (think: Barren Earth, Chaosbreed, Arthemesia, Lakupaavi, …, and last but not least, Moonsorrow), who worked with October Falls before. Former session bass player Ville Metsola contributes with an acoustic guitars on one song, and on two songs there are clean vocals, provided by Amorphis' Tomi Joutsen.
In comparison to the former album, this one does not consist of extremely long tracks, but there are a handful of other differences as well, even though very limitedly of importance. The acoustic parts have decreased even more, but still they haven't completely gone yet (and I don't think that would be the aim for the roots indeed were completely acoustic-oriented). This album sounds less bleak yet little heavier as well than before, and less melancholic yet little more epic. The haunting atmosphere and natural sound are still, evidently, of characterising importance, and so are the slow tempo, spherical passages and haunting excerpts. All in all this new album is a logical successor of the former one, seen the permanent evolution, and again I am affected by such a majestic epos.