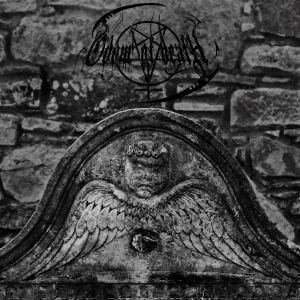 He might not be that well-known, at least outside his home country, but young Polish (now located in the UK?) multi-instrumentalist Kolan performs under several monikers. He's the guy behind projects such as Antisemitex, Defenders Of Europe, Severe Storm or Bustum (solo or as instrumentalist), and quite recently he also started an outfit under the name Odour Of Death. Until now, two releases have been done under the Odour Of Death moniker: the self-called EP and a first full length, In Search Of Eternal Darkness. The latter was released by Polish Act Of Hate Records and Germany-based Darker Than Black Records, and this one was also responsible for the distribution of the debut EP, in a collaborative operation with e.g. Hass Weg Productions or Nykta Records, amongst others. The label involved itself was Lower Silesian Stronghold, one of Poland's finest for sure.
Initially, this nameless EP was released independently and digitally in Spring 2016, soon after followed by the three-folded digipack edition via Lower Silesian Stronghold (500 copies). In early 2017 there was also a release on cassette format, by the way. Anyway, I have never disliked writing down my thoughts on older material; especially when I think a recording is worth getting some additional attention, support and promotion, you can count me in. So did the Lower Silesian Stronghold crew (counting me in). And that's why I will try to canalise my ideas on this four-track album, for it is worth being promoted.
These four pieces on Odour Of Death last in between five and eight minutes, clocking twenty-five minutes in their totality. The opening track Ulga starts with an acoustic two-layered guitar melody, impending and edifying for two minutes. Then everything erupts mercilessly! Ulga presents itself as a massive outburst, very melodic at the one hand (I truly adore those hypnotic leads), very epic at the other (melody and epic go well together, evidently), with both occult, mesmerizing parts and brutal, devastating ones. The rhythm is pushing, forceful, yet maintains that proud, victorious atmosphere the whole of the time. Truly, the combination of the dreamlike lead melodies and the overwhelming, pounding rhythm section is unique, highly satisfying and impressive. On top of it, the organically performed changes in structure (and tempo) as well as the grim vocals (which exhale a certain occult timbre) strengthen that listening pleasure. Przemiana goes on in the very same vein, and it goes even further, or must I say: deeper into occult spheres. The track is slow and mesmerizing, abyssal in atmosphere and pure in execution. Think about the slower excerpts from early Gorgoroth and you'll have an idea. Besides, this track gets injected by some floating guitar leads and dream-waving keyboard lines, covering the whole experience in an Arctic, foggy, somewhat asphyxiating yet beautiful (yeah, never thought I would mention the word 'beautiful' in a Black Metal review…) veil of magnificence. Ofiara, the third track, defines the essence of the Second Wave. Especially Forgotten Woods comes to mind, yet added by this project's typifying tremolo melodies. Once again slow-paced in tempo, this monumental, somewhat bathorian epic pays tribute to the origins of the Pagan-oriented scene from (especially North and East) Europe anno early / mid-nineties. The title track, finally, also continues that vein, and it sounds deeply funereal and even depressed. Here the border with the DSBM-scene is not that far away, I think, yet Odour Of Death are certainly not a Depressive-Suicidal Black Metal project.
A short word about the sound quality: top! There is a rough, rusty edge going on, burying any clinically decency around, yet still the result manages to come with a very balanced and stylish mix.