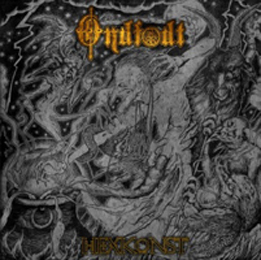 Ondfødt are a very young Finnish band that self-released an EP called I in 2013. Unfortunately I haven't heard this material, but the three tracks from that EP appear on this album. Hexkonst is the first full length, and it was recorded at Wolfthrone Studios (during periods in 2013 and 2014) by founding members Owe Inborr (vocals and drums) and guitarist / backing vocalist Mikael Kåll (both of them wrote all music and lyrics, and took care of the album's production as well), bass player Dario Bujocevic and Juuso Englund (guitars; he left shortly after) [Simon Bondegård performed the drum parts for just a couple of songs before leaving the band].
Hexkonst brings thirty three minutes of Nordic / Second Wave Black Metal with every single ingredient that characterises this nastiness. It can go two ways: the wrong one, or the good one. The first has to do with boredom, exaggeration, a lack of inspiration, a pathetic would-be image, poppy catchiness (ugh, I need to puke), or a combination of some (all?) of them. Well, none of them is applicable in Ondfødt's case. …or at least not that evident. No, I won't go into extremes and tell you that this is the best release I've heard in years. …because it is not. It's just that the final result truly satisfies my eardrums. It is not the second option either. And no, I do not mind the lack of originality (how else would you pay tribute to the Swedish or Norwegian Nineties approach?...; even the sweet outro, based on an emotive piano tune, is not missing). Let's say that all songs are mostly acceptable, yet none of them is truly outstanding. The main tempo is fast, with some slower and, especially, lots of blasted passages (nice variation, however in speed – this must be said!), and the sound is more than acceptable (a production as heavy as a concrete web, or something like that ;-) ). Besides, the general diversity in between the songs is very pleasant; they do not sound alike, with the diversification in melodies and aggression-level. And the performance is coloured by professional conviction and persuasion.
Anyway, let's say that Hexkonst will please every fan of energetic, powerful, malignant and thrashing Second Wave Black Metal in general. There is nothing wrong, yet nothing inspiring either. But for sure it is a pleasure to have these tunes of pure grimness penetrating your grey (black?) cells.