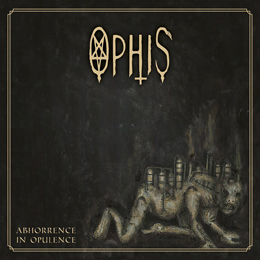 Release Date:
Friday, September 5, 2014
German act Ophis was formed at the beginning of this century in the city of Hamburg. They gained quite some 'popularity' within the metalized underworlds, thanks to their well-acclaimed releases (the demo-CD Empty, Silent And Cold, 2002; the Nostrae Mortis Signaculum-MCD 2004; debut-full length Stream Of Misery, 2007; second full length Withered Shades in 2010; and the 2012-split with Dutch Doom-colleagues Officium Triste), as well as to their strong live shows (with the likes of Evoken, Esoteric, Ahab, Ataraxie and Mournful Congregation, amongst others).
Now the quartet (Phil-v, g; Nils-d; Olly-b; and Martin-g) releases its third studio full length, which was recorded, mixed and mastered at Blastbeat Productions Studio with Oliver Carell (the band co-produced the stuff). It consists of five tracks that last in between nine and fifteen minutes (duration: about an hour), and gets released on CD (digipack) and as double-LP (2x12"LP). And I have good news, for Ophis haven't left their path of Doom yet!
Abhorrence In Opulence is a one-hour trip though cold, dark dimensions. It grabs you gently by the throat, the sweet-asphyxiating way, and does not let loose until the very end. This album is sort of definition for the essence of Old School Doom-Death Metal. It's a mixture of early Anathema and My Dying Bride, Ahab, Evoken, Faal, Monolithe, Evadne and the likes, with lots of comparisons and inspirations, yet without resulting in a cheap, pathetic copycat. Ophis do not reinterpret the scene, but they pay tribute to the basics. This full-attentive aural journey is a mostly coherent collection of those things that made, and still make this scene so fabulous. The riffs are based on cold and haunting leads, supported by a slow yet heavily hammering rhythm section. The vocals are the sonic definition for 'funeral', and the sound is full and massive, without losing itself in clinical precision. Despite the very long duration of each hymn, none of them bores, due to the structural variation, the well-thought compositions and the grandiose execution. Every piece, every single excerpt can be analysed to the bone, but there are no hiatuses, no failures, no nothing – only pure and primal Doom-Death Majesty!