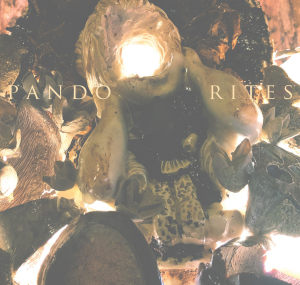 Released two and a half year ago, but that does not matter, does it!? Indeed, I thought so…
Art is Life. Life is Art. It's aural, visual, mental, spiritual, ceremonial and conceptual (and more, for sure). Aural Art gives meaning to many amongst us. Aural Art accompanies us through difficult times, through happy times, through uncertain times. Art has no boundaries, for Art is Life. Art creates questions that might implement different answers. Art is personal and individual, and therefor it is an open-minded forum for observation, interpretation and discussion, as well as for love and hate, for negativity and positivism.
Pando create Art, Aural Art in the first place. Adam R. Bryant and Matthew Gagne had this new piece, called Rites, recorded at the Uncle D's Raging Toilet Paper Campaign (mix was done by Adam, mastering by Greg Chandler) with the intention to take a new step 'into unsettling territories', exploring and reforming the certitudes of what one might call sonic evidence. Or: Rites trespasses all known borders of comfort. I will come to the aural content immediately. But as said, Art is more than 'Music', for in several cases – and that's the case in here (but I'm sure you were that far) – the other aspects (visual, conceptual etc; see above) are part of the whole experience. It easily brings me to the 'album sculpting' by Matthew. The whole visual artistry is simply stunning, going for both the cover, the layout, and all details that come along. The three-folded (or six-panel) digipack includes a twenty-page booklet, which comes with unique yet 'specific' photography, as well as with the lyrics and additional information. It's confronting – so are several sampled excerpts that penetrate the compositions – with the aim to start open-minded discussion and interaction, not focusing on right or wrong. This said…
Rites is a lengthy (fifty-six minutes and something of duration) adventure through psychic states, translated via a huge scala of 'musical' elements and sources. It's an amalgam of Sludge and Black Metal, of Dark Ambient and Drone, of Experimental and Traditional, of sound manipulation and organic play. Indeed, this means a huge variation, the whole of the time. It does not irritate, that 'lack of cohesion' at first sight, for there is a coherence which you will 'feel' after a couple of listens. And the disturbance behind it, and around it, well, that's created on purpose for sure; and that's a surplus, for it strengthens the anti-popular approach.
Once more, this album is a collection of sonic surprise and venture. Every single composition on it (I use 'composition' on purpose, for 'song' or 'track' would be impolite and disdained) is an outsider experience within a mostly open-minded yet, at the very same time, embroiled approach. Take the lengthy (nine-plus minutes) opener Agapē, for instance. This piece starts off with ceremonial and ambient synths and spoken words (extracts from the book of Leviticus), as well as religious (read: Gregorian-like) chants, strengthening that biblical essence. The choirs intensify, step by step, through different tongues and timbres. And then, suddenly, at three minutes, all Hell seems to break lose. A monumental string-section, oppressively obscure and sludgy, and torturous screams, take over the game. This is some filthy Blackened Doom, drenched in spheres of discomfort and claustrophobia. Mesmerizing synths, those choirlike voices, and spoken words return, resulting in an in-depth asphyxiating aural enterprise. The final part, then again, rather brings the most nasty and noisy form of Ultra-Doom (a subgenre that does exist at least from now on!), manifesting itself so organically after that more devotional foreplay. And in an equally natural way, these sounds evolve into the next step of Rites, entitled as Dadaism. Hypnotic riffs (somehow reminding me of Adaestuo or Cornigr, for what it's worth) and pounding drums show up, soon injected by dreamlike leads,  colossal drum patterns, and eventually, a mostly gruesome blackened throat. This is not just any expression of Black Metal; this is Blackened Art. In God We Trust With Our Cold Dead Hands, then again, is quite a sinister piece of bleak Drone, including spoken samples from e.g. the NRA, former American chieftain D.T., or from an old CBS broadcast. The droning background is like an ice-cold storm-wind, painting those spoken samples in colours of deep-red and suffocating grey. It's Noise-Drone as ghastly soundtrack for insane narratives (by some lunatic humanoids). With Total Station Theodolite, things remarkably and drastically change again, turning into malignant proportions of metalized extremities. This shorter hymn stands for sonic skull-crushing, dwelling in spheres of morbid Black Metal, militant Doom and arrogant Sludge. Monolithic layers of four- and six-string violation and devastating drums and percussions cope with dire blackened screams especially, and some befouled, deep-tuned grunts. Despite the massive wall of sound, Total Station Theodolite breathes a certain melodicism too. The Molds Of Men goes on in a comparable vein, with harshly-grooving structures, melodic harmonies (what a disturbing lapsus), sick vocals and, above all, an apocalyptic execution and sound. The second half transcends in a more psychedelic, funereal manner, sweetly caressing the delicate connection with Funeral Doom majesty. The next chapter, called I Want To Believe, is the shortest one out of nine, being the sole part that lasts for less than three minutes. Once again, it's, at first, an expression of dark Ambient, injected by vocal samples from different sources. Yet soon, things evolve into industrialized dimensions, with mechanical drones and martial beats that mercilessly disfigure the atmospheric tranquillity. Nice… The twelve-minute hymn Excarnation is a multifarious journey through both the ever-expanding cosmos as well as within the most petite existence of man's introverted spirit. It opens like a murky and doomed sonic corpse, with experimental guitar riffing, massive percussion additions (with a specific martial approach from time to time) and grim noises as spine, and a very elegant violin-based melody as skin. At the background, there's a secret wall of hypnotic grandeur. After four minutes and something, things suddenly fade into oblivion, replacing the overwhelming textures by haunting piano-setting. Soon this murky Contemporary Classic fragment gets penetrated by shrieking clamour, through the injection of mechano-industrial Harsh Noise elements. That symbiosis of electronic sound-rape and the beauty of the piano works remarkable well. After eight minutes, this fine interplay evolves once again towards another well-thought structure of aural contradiction. You have those hypnotic melodies at first, including meditative synths as well as slowly-pushing yet combative drums, which get injected by fiercer drum patterns and an explorative, semi-improvised guitar-based, eh, 'lead'. It's a full-package, an overwhelming assembly of contrast and contrariness. Yet still, it does work. Things become even more bizarre with The Octagon Room, offering something like Doom-meets-Avantgarde. Growled, yet at the very same time spectral narration, disruptive strings and offensive drum programmation get canalized into a precious and singular yet foreign aural / mental encounter of alien nature. The final passage of The Octagon Room, then again, is totally different, with reverberating sounds, acoustic guitar (somewhat Americana-inspired) and jazzy elements (which remind me of some Badalamenti-oddity). The final composition, On The Shores Of Hell, too is created around acoustic melodies especially. Folk-like Americana strings float hand in hand with, again, the important and prominent use of vocal samples, taken from different news broadcasts and bulletins, and even some field recordings (like shore-waves and seagulls indeed), a repetitive and slow rat-a-tot knock, and ethereal keyboard-lines.
After 665 listens (next one is coming up, reaching a diabolically-possessed level of undersigned's dedication, haha), I still undergo awe and marvel. Rites is a full-experience, a proficient album  that trespasses every single definition of what reliable, familiar 'Music' might sound like. There are so many aspects to unravel, so many details to dissect, and each listen reveals new enigmatic elements and principles. I am sure that many 'normal' people won't understand the total experience that is called Rites. I'm not sure either whether I am worthy and dignified to pretend to get it. Yet then again, same-minded people with a divergent mindset are kindly asked to give this album (and all other Pando-efforts, evidently) a try!
All gratitude goes to Stu Greg and his Aesthetic Death label, for supporting this release, and making it available both digitally and physically. Gratitude and respect…
https://aestheticdeath.bandcamp.com/album/rites
https://www.aestheticdeath.com/releases.php?mode=singleitem&albumid=4986
https://thetremblinggiant.bandcamp.com/album/rites
https://www.concreteweb.be/reviews/pando