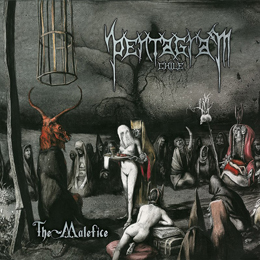 Release Date:
Friday, September 6, 2013
This Chilean band was formed in 1985 (!) as Pentagram by guitar players Juan Pablo Uribe and Anton Reisenegger; you might recognise the last one, also vocalist of the band, from his collaboration with super-band Lock-Up as well, or one of Chile's best known and oldest Death / Thrash acts, Criminal, for sure. He also joined (legendary) Uruguay-based Death Metal band Inner Sanctvm a couple of years ago, by the way. There were some breaks in the past (a couple of times the band split-up, with a pretty long break in between 2001 and 2009), but since the original duo reformed in 2009, and with assistance of a drummer (Sadism / Thornafire's Juan Pablo Donoso, who joined Pentagram as permanent member in mean time) and some session bass players, they finally created their first full length studio album in almost thirty years of existence, entitled The Malefice. Oh yes, two years ago, by the way, they decided to change their moniker into Pentagram Chile in order to avoid confusion with the same-called Doom act.
The Malefice brings fifty two minutes (the 'normal' CD-edition; see later) of rhythmic, technical yet uncompromising and traditionally-oriented Thrash-edged Old School Death Metal. The sound is great: rough and crusty, yet decently produced, and the tempo varies a lot: from pretty slow over mid-tempo to lightning fast (beware: the focus certainly is NOT blasting, yet rather pounding and mid-speed). Of course this stuff does not renew. It completely lacks of originality or modernity, but still it refreshed. Why? Simply because the atmosphere is correct, and so are the persuasion, the performance, and the craftsmanship.
Finally this: The Malefice will appear in a regular jewel-case CD-edition, a digi-pack double-CD version with re-recorded stuff from the past as bonus, and on double gatefold vinyl (with the same re-issued material as bonus).