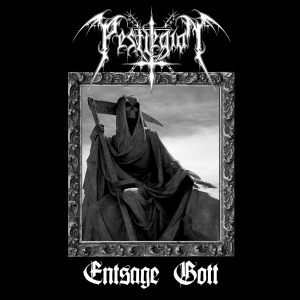 Active since 2012, German act Pestlegion, originating from the city of Marl in Germany, not that far away from the border with the Netherlands, didn't record that much. In early April 2014 they released the mini-CD March To War via Bret Hard Records, and early 2017 saw the light for the first full length (and sole full album to date), called Dominus Profundum via that very same German label. Two more tracks have been written and recorded in the meantime, and gathered under the Entsage Gott banner, they got released via Bleeding Heart Nihilist Productions, the digital way and on vinyl. The latter is a 7" EP, pressed in an edition of 300 copies.
Entsage Gott ('forsaking god') was recorded by drummer Toni 'Tynn' Merkel (indeed, the grandson of Angela… NOT…) (known from e.g. Sabiendas, Interstellar Genocide and Big End Bolt), vocalist / bassist Björn 'B. von Doom' Fratzer (ex-Castigate), and string caressers Tenebriz and Christian 'Caladrius' Eichberger (think: Castigate, Sabiendas). It consists of two tracks, one on each side of the vinyl disc, with explicit yet quite attractive cover artwork.
Both tracks, the title song and The Final Sacrifice stand for a Nineties-styled approach. Roughly explained, it collects sharp yet melodic tremolo riffs, hammering drum patterns, low-tuned melodic bass lines, heavy rhythm guitars, icy blackened screams, additional growls and that's it. Indeed, the ingredients for the 'tradition' of 'regular' Black Metal. No gimmicks, no originality either. Then again, purity, honesty, the lovely essence of true (Satanic) Second Wave Black Metal. And you know, despite lacking originality (yet as I have mentioned a thousand times before: who cares, who needs a 'renewed' sound – why changing a winning team – as long as the result of this fabulous Aural Art is top-notch!?), the result caresses my eardrums masochistically.
The title track (04:43) varies a lot in tempo. Initially, it's thrashing and fast, and then I am referring to their Swedish colleagues from, well, let's say Triumphator or Setherial. But hey, remarkable is the high level of melodicity. Twin guitar riffs give the whole a very epic twist, and some drum parts (just check out, for example, a fragment at about two minutes) are victorious and glorious. As said, the better part is Swedish-styled energetic, but there are some slower-paced moments too, giving a perfect counterbalance to the vengeful rage.
The Final Sacrifice is little darker in approach, and contains those floating lead melodies as well. The atmosphere is more dense and obscure, and the sound much more bombastic than the title track. Structurally, there is quite some variation too here, with several blasting excerpts, yet some slower chapters too.
Is this EP a revelation? No, it is not. But is it worth being listened at? And bought, in consequence? Absolutely. With Entsage Gott, Pestlegion deliver a cool, interesting two-piece recording that must satisfy every adept of honest timeless and fast Melodic Black Metal! Amen…