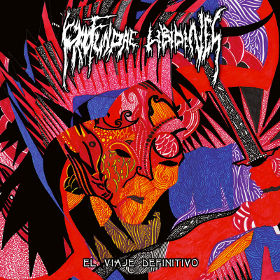 Profundae Libidines are one of the projects that includes Rémi Depernet, who acts under the name Philoxera right here. At the end of spring 2011 he independently released a first full length, on which Rémi performed almost all instruments + he was helped out by several guest vocalists and a session violinist. In early 2012, Profundae Libidines was part of a split-tape with Inssect (Infernal Kommando), and now it's time for the second full length, once again with assistance of some guest vocalists from bands such as Seide or Inssect. The whole was recorded and mixed in 2012 and 2013, and now it gets released by Emanations, a new sub-division of Les Acteurs De L'Ombre Productions, one of the most surprising and interesting labels I discovered lately.
This album is quite 'apart' for several reasons – on the sonic aspects I will come back later, but first this. The whole comes in quite an eccentric lay-out; it looks as if this album deals with some Psychedelic stuff: multi-coloured, weird drawings and kaleidoscopic paintings… …not the typical 'Metal' thing one might expect…
Another strange thing is the lyrical side and the titles (and you know: the debut was based on the Gospel of Matheus, so this project indeed is quite 'unique'). Not only the album's title itself is weird, for being Spanish – but the whole is divided into two parts especially, being a Japanese and a Mexican one. Difficult to explain, and not necessary because you will have to search for this album anyway, if only because of the high aural qualities.
And those 'aural qualities', well, they start immediately with the opening track. Hi No Kami initially sounds like some old styled Underground effort, and as a matter of fact, that does not change anymore, despite a cool ('cool' as in 'cold', or better: 'freezing cold', the Arctic way…) progression throughout the whole of the composition. Anyway, what I am trying to say, is that this piece sounds rough and primal, and unless the old schooled approach, there is, for sure, a subtle inherent 'Post'-approach as well. After about three minutes, the whole sort of explodes, with a faster basement and quite raspy vocals, yet still based on that initial low-tuned guitar melody, and with inclusion of mesmerizing, dreamy leads in a so-called Funereal / Blackgaze-vein. Remarkable, and this goes for all compositions, is the prominent presence of the bass lines – which I surely cannot dislike. Indeed, the sound is rather primitive and down-tuned, yet the final mix makes sure all 'players' are equally proportioned. Another attractive point is the individual variation within about each single composition. This goes for the speed, this goes for the use of intros and / or intermezzos, this goes for the breaks, the addition of spoken words, the solos, the injection of angles from different (yet evidently related) genres, etc… But the few, non-exaggerated yet quite disturbing / surprising 'special' details (cf. the outro on Tenjiku, for example) for sure make this band / album distinctive from the grey masses, whether you like it or not. Besides, with a track like Muerte Sin Fin, Profundae Libidines also enter the halls of Funeral Grandeur, and it seems to work well! This track, by the way, also includes violin lines and spoken female voices, in case it might interest you.
Oh yes, important question with a plain answer: what about the difference in between the Mexican and Japanese side? Well, actually, there is not such huge distinction in between both of them. The Japanese league might sound more 'plain' and 'primal', while the Mexican one sounds little more structured; the first one is basically focusing on an old schooled feeling yet with an exuberant Post-attitude, while the second one focuses strongly on a Second Wave-tradition rather than a sub-modernistic approach; the Mexican part too is much more obscure, occult and suffocative in sound and atmosphere, while the first part relies on malignancy and hatred especially.
El Viaje Definitivo consists of two parts, as said before, but there is a bonus track too, which has nothing to do with one or another Japanese or Mexican institution. It's a cover track of Forbidden Site, La Chouanne, performed within quite a Punk / Death Rock vein – and to my opinion, totally unnecessary (just like the original version)…