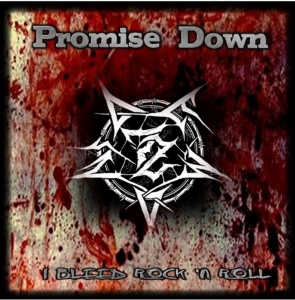 My first acquaintance with Antwerp (Belgium) based act Promise Down was via the first volume of the Sounds Of Hell Series (a magnificent compilation series focusing on the scene from the Benelux). I was quite surprised by their contribution Furious Masturbation (part of this EP, so I will surely come back to this specific track soon), and suddenly – don't ask me why, or how – I got their debut EP in my hands. It's a five-piece mini-album that – nope, I'll come to that back soon too.
First some biographical news, whether you like it or not. This band consists of four pretty youngsters, and they started somewhere in very early 2019, when Heavily Mad colleagues Daniel 'Dax' Aertssen (guitars; also involved with e.g. Mental Genocide or Cyanide) and Marc Peeters (drums; previously known as well for his involvement with e.g. Revenge, White Fang, King Vain or Twilight) decided to start another Heavy Rock 'n' Roll outfit. Since there were quite some bottles of whisky left, bass player Donny Clé (ex-Patriarch, ex-Sixpack) and singer William 'Lawson' Debaene did jump on this train to ride along (as long as there is / was enough whisky, gin or strong beers, I guess – as long as it rocks and rolls…).
Throughout their limited years of existence, Promise Down did write some hands full of elegies, and they did build up a firm fanbase, partly created by their energetic live gigs. Five of these lullabies eventually made it to the I Bleed Rock 'n Roll EP, which was released independently on compact disc format (which includes an eight-page booklet with the lyrics; cool cover artwork and intriguing pictures inside, by the way!). And hey baby, that stuff indeed rocks and rolls!
And oh yes, about those lyrics: don't take it all too seriously. Irony, cynicism and sarcasm, even self-mockery, are the guideline to salvation. But you know, this kind of sonic execution and textual expression fits together like cheese and wine (ergo: I am not the poet, I just stole this quote, haha).
It starts with Turn To Break The Seal, a homage to a great liquid, distilled from fermented grain mash and aged in oaken casks. Yeah, I truly adore some of the (especially) Scottish, rather peat-tasting kinds (though we do have some excellent material too in Belgium), yet since this is not some commercial for Talisker, Bowmore or Laphroaig, I will now continue focusing on the track Turn To Break The Seal (sorry for this interruption; I will now refill my glass and then we go on rocking…). So, as from the opening riff, you know, you feel that there will be a symbiosis of pleasure to play and energy to perform. That opening riff soon gets accompanied by low-based bass lines, kinetic drum patterns and the characteristic, somewhat soar and rough-edged voice of 'brulboei' William. Anthemic shouts, a sharp solo, thrashing riffs, classic rhythm structures, it's all part of the game.
Next up is Furious Masturbator, which was my defloration for Promise Down (cf. Sounds Of Hell Series Volume 1). Here too, old styled (Hard) Rock and grooving Rock 'n' Roll perfectly go hand in hand. This piece is based around an uncompromising riff, surrounded by a grandiose rhythm section (listen to that pushing-forward drum-work) and once more the aforementioned lead voices, a punkish choir intervention, and a clinically-precise guitar solo.
Don't opens quite bluesy, with acoustic guitars and jazzy drums, but soon comes up with a fierce riff, like a mixture of Phil Campbell and Paul Quinn. The vocals do really sound whisky-drenched, a hangover-throat gasping for a painkiller. Furthermore another fingerspitzen solo, fine-tuned rumbling drum salvos, and what a cool bass lines after about two minutes (!). And then at last, that hilarious, totally unoriginal (who cares) yet surprisingly effective final sequence, simple yet ingenious. But this said: leave me alone, let me sleep and do not disturb me!
The shortest piece is Let It Out! (2:52; the total running time of this EP is about seventeen minutes, for your undoubtedly mostly important information). It's the most punky singalong on I Bleed Rock 'n Roll, and despite its short length, it gathers so many attractive elements: up-tempo riffs, thunderous drums, Heavy Me(n)tal leads, anthemic lyrics, cool breaks and changes in tempo and structure, enfin, a whole scala of well-balanced details and additional aspects.
The EP ends with the title track, another grooving piece of semi-anthemic energy and some 'I don't give a f*ck' attitude. This is such well-balanced equilibrium in between catchy (Blues) Rock and Eighties Heavy Metal (evidently heavily inspired by the West-European scene). Once again, the primal and uncomplicated approach has a deeper level of ingenious and well-crafted details, coming into its own by the professional sound quality.
And when talking about the sound, well, the production and mix are of a high level. I didn't expect to have a young act like this, recording material in-house, like they call it, to come up with such a decent sound quality. But the result is neat and decent, and above all – and that's a necessity – every single element is so well-balanced in its entirety. Lead and rhythm guitars, basses, drums and percussion, and vocals; all of them are clearly audible. No unnecessary noises at the background, no sound failures; seriously, the result, when talking about the production and sound, is highly professional.
This hybrid of punkish Rock, universal Groove Rock and somewhat NWOBHM-oriented old-schooled Metal does not reinvent the scene, but who needs modernistic progression if this primal art gives pleasure and satisfaction. Consider it a must for those who might adore everything in the vein of Diamond Head, AC/DC, Motörhead, Saxon, The Treatment, Warlock, Venom (not their most 'blackened' era, evidently, yet still…) etc.
Cheers!
https://promisedown.bandcamp.com/
https://www.concreteweb.be/reviews/various-artists-sounds-hell-series-volume-1
https://www.promisedown.com/?fbclid=IwAR12KlXy7CxkcUQqYVbEvTsTwR1FsKhdA3LXRPprcj-wgF7AfreAAP4Br4c
https://www.facebook.com/people/Promise-Down/100063752641564/
https://www.youtube.com/watch?v=vY4Ejag8nCU
https://www.facebook.com/100063752641564/videos/687409388509240