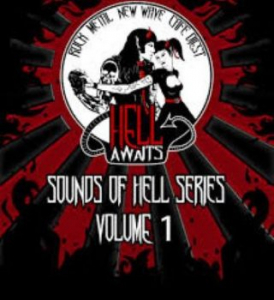 Album Title:
Sounds Of Hell Series Volume 1
I am aware that the second volume has been released in the meantime. That actually is a good thing, for the aim of this promotional series is to support the 'local' scene. And yes, a third one is in the making…
But first things first. I will surely pay attention to the second edition soon, for that one too has some known and some surprising new material to offer; just like the first compilation acting under the Sounds Of Hell moniker. Actually, the goal comes from a (small) city in Flanders, Diest (with a modest yet historically important history [a 'historical history'; I sound like a drunk poet…], and some great (and unfortunately also a few lesser interesting) local beers), where the Hell Awaits community finds its origin. It all started with a Rock / Metal / New Wave pub, a venue for live performances or just a cool (or warm) drink with a brooding yet rocking atmosphere. And then, as a prophecy, things grew into a wider spectrum – why not, why not, gathering some bands from different angles in order to promote our own, local, artists.
…and I can go on, if you want to; but I'll keep it short. Erik and his crew decided to compile, as I did mention before, some tracks from different bands from all over the place; Flanders especially, but the whole Belgian territory and the one from the Netherlands too (a tribute to the mighty Lowlands, let's say…). And this first edition did result in a compilation of no less than eighteen acts from both Holland and (especially) Belgium. Because it would bring me too far (and it would eventually bother you too), I will not go too deep into the history / biography of each band involved, but it isn't but fair to write down a little biographical word and a small personal thought (objectivation and subjectivity, the spine of a review) on each project included in this first edition. I will soon do the very same for the Sounds Of Hell Series Volume Two too, evidently…
Before getting to the point (i.e. the sonic side of this first volume), I have to add that this compilation album looks extremely professional. I have no idea whether all editions are alike, but mine is a digipack edition with sober yet intriguing artwork (the second volume looks alike, yet with a different colour) and a four-page booklet within that booklet. Besides, there is also a twelve-page booklet in A5 format, which includes a small word (liner notes, line-up) on each artist (+ picture). Very interesting, of course...
There is a huge variety, for this goes beyond the limitations of any 'trend'. As a 'fan' of the heavier and more obscure and ritual regions of the aural spectrum, I am not trusted with each single thing I hear, but as an open-minded human being I will have no prejudices (I am more critical for my 'own' and trusted genres). Anyway, here we go.
Devil's Bargain (bel), Sign Of The Times; the track is taken from the band's independently released full length debut Visions, recorded after some (important) line-up changes. It's a cheesy yet energetic track, bringing timeless (although there is an old-styled vibe for sure) and universally-sounding Hard Rock / Heavy Metal with pounding drums, a full-bodied string section and clean vocals that have, in some way, a female touch. It mixes elements from Eighties Speed and Heavy Metal, European Hard Rock and even touches of progressive AOR, like some hybrid of Accept, Warlock, Saxon and Helloween.
Noord (bel), The General (taken from their untitled debut EP); this trio from Antwerp brings a modern mixture of Thrash Metal, Half-Thrash, Hardcore, Screamo, Heavy Metal, you know; an amalgam of genres, professionally and organically mixed into a melodic yet quite intense experience. The focus lies on melody at the one hand, and a progressive experimentation at the other, including harsh screamo-like voices, trending guitar leads, and a powerful rhythm section.
Vloed (bel), Daylight Fading; this song from their full-length debut Darkness, with lyrics in both English and Dutch, finds it's influences within the old-schooled vibe of Heavy Metal especially, yet the few progressive aspects and the undeniable dose of elements from (Traditional) Doom Metal give a fine additional attitude to this Aarschot-based trio. And hey, what a cool outro, hehe!
Wound Collector (bel), Execution In Chaos; when I read that this collective was formed by a (known) saxophonist yet does perform Death Metal, I was thinking about John Zorn's outfit Painkiller immediately. This would lead to a frenzy, schizoid thing. And you know, actually I was not that far away from the truth, apparently. The band (saxophonist Peter joined forces with some renowned (Death) Metal musicians; important is to notice that Peter was part of quite some Death Metal and Grindcore acts in the past) brings a lullaby from their Depravity album, starting of with a massive approach of brutal and aggressive Grinding Death Metal, based on no-nonsense strings, blasting drum patterns and deep, growling screams and grunts. But soon that saxophone joins, turning the whole into, indeed, a weird, mad, lunatic thing. Mahdnezz…
Collapsed (bel), Desert Storm; this is the title track from their latest EP; this combo brings an extremely energetic, frenetic, even delirious mixture (including a well-written slower passage) of Old School Punk / Hardcore and (both European and - especially - American) Eighties Thrash Metal (guitar-wise especially, cf. that solo towards the end, even First Wave blackened in origin). The lyrics seem to deal with Mater Terra and the old Gods (Earth and ancient beliefs / religions have always been closely related to each-other), and the relationship of the human kind with Nature.
Bēlua (bel), Humiliation; a young band yet with experienced members, bringing an extremely firm form of Groove Metal, including djenty riffing, progressive drum patterns and rough, throaty yet melodious voices. The mid-tempo and the few breaks in melody, yet also the technical riffs and thrashing structures make this piece a timeless anthem.
Rages Of Sin (hol), Derivance; this four-headed combo is known for their monumental approach of melodic yet intense and technical Death Metal, finding its inspiration in the scene from the Nineties especially. That technical approach is not of the progressive kind, yet rather related to the current Deathcore scene, but the basics surely are inspired by the North-American and European scene, with an emphasis, evidently, on the influential scene from the Netherlands. The huge variation in tempo and structure (including an acoustic and a blackened passage) and the extremely skilled performance (the leads are hypnotic and deep-going, the drums are nothing but magisterial, the vocals oh so overwhelming, and the bass and rhythm guitar riffs convincingly supportive) makes this one of the best bands lately within the Death Metal scene (personal opinion).
Svarthart (bel), Blinded By Lies; this Antwerp act started as a solo-project, but turned into a 'real' band throughout the years. What these guys bring is a minimalistic and somewhat archaic form of Doom-Death, you know, from the purest kind: simplistically sounding at first, but actually so in-depth, pure and captivating. Svarthart defines a true dedication to the origins of the scene, and they do not need to come with progressive twists or playful experiments; just pristine darkness and iniquity are needed to create this doomed elegance…
Behind Bars (bel), Predator; within their specific scene, Behind Bars are pretty 'popular', and that's something they do deserve. This Hardcore-army performs a very characterizing form of their genre, but with such eye for detail, mostly convincing compositions, and a well-thought craftsmanship. Their wall of sound is devastating and torturous, with monolithic riffs, all-destructive rhythm (sometimes quite polyrhythmic, yet still then maintaining a fine melodious attitude) and deep, guttural vocals. There is a reason why they shared stages with some of the biggest names (Sepultura, Madball, Helmet, Converge).
Criminal Judge (bel), Legalize It!; ah, what a surprise – back from oblivion, resurrected and ready to seek and destroy again… This band split up at the end of last century, but apparently some original members reformed Criminal Judge with two members from Downward (and the likes of Leech 54 or Cathubodua). And their contribution sounds as they have never quit their activities, for Legalize It! stands for Thrash Metal 'avant la lettre'. The track is full of energy and old styled fierceness, like the metallican Proto-Trash trend more than three decades ago (read: the Eighties). Forget originality, for honesty takes over the leading role!
Solifugia (bel), Spawn Of Parasites; this is an older track, but hey, why not? Actually, this Ghent-based band was formed more than two decades ago, and they do represent the underestimated yet magnificent and mighty Flemish scene with pride and honor. This specific track combines powerful up-tempo fragments with some slower, decelerating chapters, yet permanently exhaling an obscure, grim and vengeful attitude. The melodic bass lines, the technical drum patterns, the fierce soloing, the sulphury growls, the variation in structure and tempo, and the oppressive sound make this piece a mostly asphyxiating one, but attractive too at the same time in a masochistic manner.
Bacon Fat (bel), Burning Desire; psychedelic Sixties / Seventies styled badmotherfucking Rock 'n' Roll, ZZ Top inspired and bluesy Rock with Southern and Groove elements, that's what this band brings. Imagine Big Sugar being covered by AC/DC, or what about Hawkwind and ZZ Top producing ugly babies with guitars in their cradle?... Indeed, the result would sound this way. The groovy approach works really infectious and catchy, including a hot, sexy vibe going on throughout the whole sonic adventure called Burning Desire.
Promise Down (bel), Furious Masturbator; these Antwerp-originating musicians too bring timeless yet old schooled Rock 'n' Roll / Hard Rock with a grooving and catchy twist, a Heavy Me(n)tal approach and even quite some NWOBHM elements. It's less ZZ Top than Bacon Fat; rather a hybrid of Saxon with AC/DC, or Judas Priest with Spirit Division. But it grooves, it rocks, it puts a (sardonic) grin on my (pretty) face for sure. Heavy R'n'R for the mature…
Splendidula (bel), .38; this too is a track that is not exactly new, but damn, what an honor for our country to have such band in our roster. I got this release a while ago from my colleague / friend Joni from Inverse, and you know, there are quite some great Heavy / Doom acts with a female singer. But without being a 'patriot' (haha) or some chauvinistic person, I think that Splendidula have a lot to offer. Kristien's voice is very mature and varied – it simply fits to every single fragment of each song – both from compositional point of view too, Splendidula maintain, and uplift, the tradition of the scene. Their contribution, called .38 too is an example of fair, fabulous Doom Epic, including both sludgy and atmospheric aspects. Lovely stuff…
Hunter (bel), Infiltrator; ah, those days of the Old Time, when Heavy Metal was still uncompromising, pure and uncomplicated… Hunter bring back (actually, their experience goes way back) the atmosphere and attitude of the earlier years, that feeling you got when listening for the first time to, well, let's say, Iron Maiden, Judas Priest and Saxon, and why not, even Manowar, Warlock or Metal Church. Heavy Metal from the Old School with charismatic vocals, ingenious guitar play, a monumental rhythm section, attractive solo work and, above all, a sound and atmosphere so pure and elegant – no more to add…
The Bullet Dodgers (bel), Dodging Bullets; heavy metal thunder!!! These four guys bring back the essence of the purity of Heavy Metal like it used to be decades ago. NWOBHM is a main reference, evidently, but this band is able to enrich the tradition of that old schooled scene with a very own approach, a very self-sighted attitude. Imagine a fair original approach with some very specific / renewing / own-faced injections, and accept (or is it: 'Accept'?) this band's distinctive representation with open arms.
Ten Ton John (hol), I Am The Enemy; this is such combo that is able to combine a lot of influences, genres and approaches into one unique thing. Screamo, Thrash Metal, Prog, Djent, Punk, Groove, Death Metal, you know… This specific track combines many of these genres' elements, canalizing it into a modern sounding, little catchy yet still intriguing adventure. Melody and energy go hand in hand, with floating tremolo leads and a fierce ambience, acoustic intermezzi and progressive excerpts.
Loco-Motive (hol), Loco-Motive; this Dutch band labels itself as 'Danceable Rock', and you know, actually their mixture of Southern Rock, bluesy Hard Rock, Seventies Doom and catchy Groove (Metal) is not that badly defined as, indeed, Danceable Rock. The whole has a funky, grooving vibe, yet undeniably intense and uncompromising in attitude and performance. The guitar sound for sure has a certain sludgy approach, the guitar solos come with that specific Fingerspitzengefühl, and the general atmosphere exhales a pronounced Sabbathesque approach.
Nothing more to add, for this is a very open-minded and diverse collection of tracks / musicians. But there is one thing in common for sure (and even I, with my narrow-minded appreciation for Funeral Black Doom Death Grind Evil Ambient Metal – and some related genres, haha – has to admit what follows), and that's that we, at the legendary Lowlands, have such great artists in so many genres. Forget about New Beat, Schlager Music or Kleinkunst (though, I do certainly adore the latter once in a while; or is it because my pretty wife tells me that 'Kleinkunst' is an adorable genre...), for this first Sounds Of Hell collection does surely introduce some material that might seduce you, even when it (in 'normal' circumstances) might not exactly be your usual cup of (psilocybin) tea. Respect! …and up the second (and eventually a third, fourth, up to a six hundred and sixth) volume of this series called Sounds Of Hell…
https://www.facebook.com/helldiest