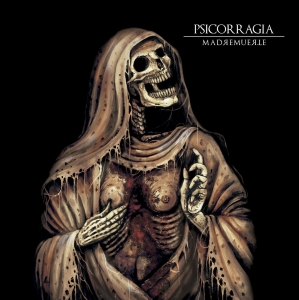 Release Date:
Monday, February 29, 2016
Peruvian act Psicorragia were formed in 1994 at a time when the South American (Death) Metal scene was enormously influential, inspirational, and interesting. After some changes in the line-up and a search for a direction to go, the band released a first demo, Otoño, in 1998. In 2001, the band was able to record a first full length album, La Pasión de lo Mortal, which was released via American Line Productions. An EP did follow in 2005 but then things went silent for quite a while. However, at the beginning of this decade, another EP was recorded and released, and so were a couple of compilations - but we had to wait for a second full album. Finally here it is…
Madremuerte was recorded by original members Mario Romanet (vocals and bass) and Marco Borra (guitars), 'old' members Alick Gonzalez (guitars) and Antonio Duncan (keyboards, mix and mastering), who were part of the band as from that very first higher mentioned demonstrational recording, and new drummer Teo Suchero, (known from Thrash-outfit Epilepsia), who debuted on the band's last EP. Most of the material was recorded in the band's home studio in capital city Lima in 2014. The band's lyrics, written by the singer, are in their mother tongue, Spanish, but this Moscow Funeral League includes an additional booklet which comes with the English translation. And oh yes, my compliments for the artwork, which surely recalls an old school attitude.
With Madremuerte, Psicorragia bring a fantastic, own-faced form of old schooled nastiness. The band performs traditional Doom-Death Metal with lots of orchestral elements and technical details. In essence, everything is structured around slow rhythms, yet with quite a lot of sudden eruptions, almost blasting. Besides, the whole gets injected by lightning fast and technically-perfect solos, bombastic keyboards, additional blackened screams, and so much more. I will go deeper into some of those aspects.
The synths, and in extension some choirs as well, inject the journey with a symphonic-orchestral atmosphere, bringing to mind a gothic elegance à la the psychologic cult horror movies from the seventies and early nineties from the U.S. and Italy (The Three Sisters and that kind of visual art). Once in a while it might seem too 'cliché', especially when the multi-vocal choirs join in. But actually, there is a permanent presence of keyboard support, often quite subtly present, and it has its added value. From time to time the synth sound rather refers to church-like organ-alike divinity, adding another dimension of mysticism – cf. a track like Cuando Ellos Vuelven. Also the limited presence of samples does add something important when used.
Despite the old styled basics (you don't hear me complain!), the technical execution is quite modern. Okay, for quite some part it has to do with the members' experience in mean time (Psicorragia are around for two decades in mean time), yet never – and I am quite pleased with this – never it loses itself into progressive modernism. No, on the contrary; with a bad sound I would think this stuff was truly written and composed two / two and a half / even three decades ago. And for sure the sound quality is much better than most recordings from the late eighties / very early nineties, but that isn't but 'evolution' evidently. Yet still I think the production withholds something authentic (which reminds me to the Greek scene in one way or another).
In essence, most chapters are pretty slow in speed. The massive rhythm section accentuates this heaviness when everything slows down. Psicorragia however do not lose their credibility when they open all registers of fastness. The transformations in between the different tempos go quite organic; not forced or unnatural.at all. During the slower parts, the melodies breathe something both melancholic as well as victorious, then again cinematic-horrific and suffocative. At the other hand, several faster excerpts are quite comparable to the universal origins of the old styled Death / Deathrash scene; especially when soloing both the European and American scene revive in all their glory.
The main vocals are quite deep, powerful grunts / growls with a modest level of variation, and therefor absolutely another added value. Besides the choirs, there are some semi-spoken words too, but even more important, several blackish screams. These ones increase the obscure atmosphere of the whole concept.
Further on, there are some (semi) acoustic intermezzi, that aren't necessarily a surplus, to my modest and insignificant opinion.
Despite a relative force and heaviness, the overall result might seem quite catchy. It lowers the difficulty of the composition structures (the eight pieces are quite lengthy and pretty varying on several levels), and unfortunately I think that this catchiness might undermine (a part of) the whole concept.