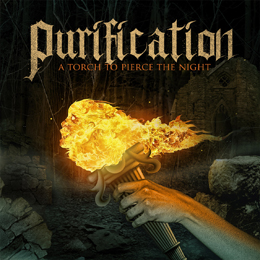 Album Title:
A Torch To Pierce The Night
A Torch To Pierce The Night is the latest release of the Italian hardcore band Purification. With this album, as the title gives a good reference, these Italians want to make the world more aware of the advantages of a vegan straight edge lifestyle. With songs such as Anatomy of a failed revolution and Traders of one thousand diseases, they succeed quite well in bringing their message across, but it's not completely working musical wise. According to Purification, there's a lack of bands that underline this same statement, but I believe they're wrong. Maybe in Italy, yes, maybe there, but there are numerous bands nowadays that try to put forward this idea of an anti-meat society. The message is brilliant, don't get me wrong, but if you want to do this, at least make it original, because A Torch To Pierce The Night sounds far from innovative.
Italy is not really renowned for its good hardcore metal releases and unfortunately, this band/record is no exception to that rule. The music sounds really aggressive, but the sound is somewhere to be found in between thrash metal and the core genre. It's not that bad, but it's not good enough. I think it's time for Purification to fully go for one of the genres and to figure out what style they want to be representing. The message is good, but they have to build that on a solid sound. There is potential, but I'm wondering whether we'll be hearing that on a future album. The future will tell. Let their torch of wisdom guide Purification through the night.