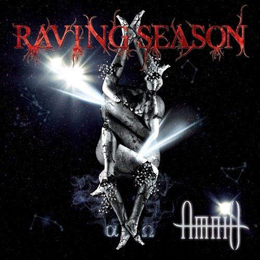 Almost eight years back, Rome-based band Raving Season was formed by female vocalists Federica (raw grunts) and Judith (clean vocals), and guitarist Sergio. When another guitar player and music composer, Marco, joined the crew, Raving Season recorded and self-released their first EP, called The Brightness Of My Disaster (recorded May 2009). (More than) a year ago, finally, Raving Season started working on their debut full album at Lemonhead Studio with producer Federico Truzzi, and the material was finally mastered at Priory Recording Studio with nobody else but Esoteric / Lychgate's Greg Chandler. Earlier this year, the band signed to My Kingdom Music's roster, and this Italian label will take care of the release of this debut full length.
The album, lasting for more than an hour, is varying, i.e. it balances in between two specific approaches (in each song). At the one hand, you have the sweetly-emotionalised and slightly alternative Gothic-approach. Judith's clean voice is of the operatic, classically schooled kind, but certainly not of the irritating kind (a sickness that happens to often within the modern Goth-scene). These more tranquil parts never fake; I mean that those parts are comparable to the better bombastic colleagues from Holland and Norway, and not à la the poppy nonsense that unfortunately defines scenes like the German, Finnish or, indeed, Italian one (with exceptions, of course). Those parts come with a soberness and integrity that holds the middle in between emotion and art. The other extreme is the heavier side of the band, with truly excellent grunts by Federica (her growls are impressive for sure). It shows a heavy and powerful intensity with a varying tempo (though mainly slow to mid-tempo). And each song is an interactive combination of both approaches. It defines itself with a mysterious and mystical identity, strengthened by an organic yet slightly too polished production. And as mentioned before, the equilibrium comes with a fine balance of both types.
Recommended to everyone who appreciates (female-fronted) symphonic, operatic, melancholic and neo-romantic Doom-Death / Gothic Metal.