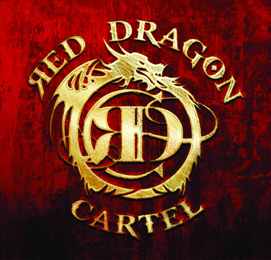 I put this CD on without reading the accompanying info.  And my first impression was :am I listening to some Ozzy Osbourne tribute band, or a band that's trying to clone his sound ?  So I started reading the info, and it soon became clear to me as to the why and how of this sound.
As a matter of fact Red Dragon Cartel is a band that was formed by Jake E. Lee.  Maybe that name doesn't immediately ring a bell, since the guy has been absent from the scene for quite a while, but in the past he has played with bands like Mickey Ratt – who later became just Ratt, had a brief stint with Dio, also played in Rough Cutt, but is maybe  bet known for his work with…Ozzy Osbourne.  When he left Ozzy Osbourne, he founded Badlands, who released 3 albums.
Therre are only nine songs on this album, which is a bit on the short side, and on 4 tracks there are guest singers, one of whom is Paul Di'Anno. The other five songs are sung by D.J. Smith, a UK born vocalist. And while there may be people who think he's not quite as good as Mr. Ozzy himself, I have another opinion about this.
A very good album from a man who's shied the spotlights for almost two decades.  I would have appreciated it even more had there been one or two tracks extra.