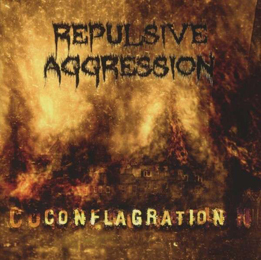 Norwegian act Repulsive Aggression was formed almost five years ago by some Svarttjern-members (guitar player Saether and grunter Holter), with assistance of drummer Nødset (Frail Grounds). They did record a three-track demo a couple of years ago, which drew attention of Schwarzdorn from Germany, resulting in the current contract.
Conflagration is the first result, the band's debut for this strong label, with a total running time of forty one minutes. And it's a mostly remarkable debut. The roots of Repulsive Aggression's music are initiated around a Thrash-edged Death Metal basement. It is of the melodic kind, timeless and universal, yet not (post) modern or progressive; rather simple, essential, basic in approach and elaboration. There are a couple of subtle hints to the band's other efforts, i.e. a sporadically Black-sourced atmosphere, as well. The speed is rather varying. The focus is up-tempo oriented, with annexations towards both slower and faster passages, and with a subtle amount of both speed-up accelerations and dark-edged decelerations.
In general one might say that this album will surely be appreciated by fans of the Death Metal scenes from Finland, Germany, Norway or Denmark; so if you're into bla, then you will bla bla. Bla?