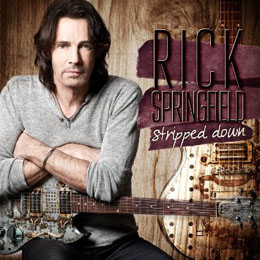 Release Date:
Tuesday, February 10, 2015
While Rick Springfield  was born in Australia, and scored his first top ten hit there in 1972, he subsequently moved to the USA, and had a nr. 1 hit over there, as well as in Australia with 'Jessie's Girl', for which he also received a Grammy award for best male rock vocal performance.  More top ten hits followed with 'Affair Of The Heart' and 'Love Somebody'.  He also performed as an actor, playing Dr. Noah Drake on the daytime drame 'General Hospital'. 
I personally got acquainted with him through the albums 'Tao' and the follow up album ''Rock Of Life', and the again lost sight of him.  I hadn't even realized this guy has been in the music business for some 30 odd years now.
This album captions his first efforts at a solo acoustic set, and was recorded at the Pantages Theatre in downtown Minneapolis.  The décor was minimalistic, a bar stool, some guitars, a mike and a laptop and that's about it.  Having lost track of his recordings besides the two aforementioned albums, there were of course tracks I didn't know, but over all it is a very pleasing record, especially if you're into acoustic stuff.  The guy shows he'as a talented guitarist, without being a guitar wizard, but his voice is what does it for him.