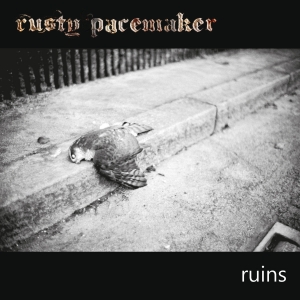 Rusty Pacemaker is the artist name of an Austrian musician, who started writing music in 2003 (he was already over thirty years of age back then) under the name Rusty. Together with drummer Franz Löchinger - the Austrian Drumpower (the latter co-operated with the likes of Virginia Ernst or Franz Joseph Machatschek, and collaborated within the Drums For Kids project) - he recorded some material that would eventually be released as Blackness And White Light (Solanum Records). Then he started working on new material in his new recording studio, and once again with assistance of Franz, he recorded the second album, simply called Ruins. The drum parts were recorded in only one day with famous sound engineer Norbert Leitner (think: Cadaver Race, Devastating Enemy, Shadowcry, Days Of Loss or his main band Lords Of Decadence). The final result was mixed and mastered at the well-known Klangschmiede Studio E (think: Eisregen, The Vision Bleak, Ahab, Dornenreich, Dark Sanctuary and many others) with Markus Stock.
Anyway, Ruins stands for almost fifty five minutes of melodic, and then I am referring to the high-tech tremolo kind when it comes to certain riffs, rhythmic and diverse Modern Metal, with a focus on both Extreme Metal and Progressive Rock / Metal. For sure the whole thing is quite variating, with more than a handful of bizarre elements, such as fluting (not on a flute, but you know, the whistling thing you do with your mouth!), or hyper-proggy additions and avant-garde injections.
This stuff is quite an experience, at least for undersigned (imagine…!...), despite not being that extreme at all. And maybe because of that lack of exaggeration, undersigned is able to appreciate (at least for the better part) the modernistic performance.
Since I can appreciate material in the vein of Vintersorg, Strapping Young Lad (or any other Townsend-involved project) or Garth Arum, just to name a few, there is no reason to dislike Rusty Pacemaker's Ruins. Actually, there are quite some elements that would be ador(n)ed and pleased by the fan of the more extreme side of Prog Music. Especially the injection of quite a victorious, epic elegance and that crafted heavy Rock-side are surpluses the fan of the genre cannot, and will not / must not, ignore or deny. Note: this stuff is rather focusing on the extremities of the Prog-genre than any link to the Death or Black scene (can you hear the grief by undersigned), but at the same time this means a very clear, profound aim at aural side, and that's quite cool.
In general, I think that every 'fan' of Progressive Metal will appreciate / adore this material. There is nothing to dislike anyway. The vocals are cool, the song writing, structures and performance is of a high quality, there is quite some variety and, for sure, a pretty own-faced execution, and the sound quality is beyond average, being both full and, then again, subtle and delicate.
[personal note, for what it's worth: I am normally not into progressive stuff at all, with some exceptions; but this time even I am quite surprised by the result; it's not the 'objective' acknowledgement of the result only that strikes me; also my personal, purely subjective being cannot, and will not, just ignore the persuasive side of this sonic history]