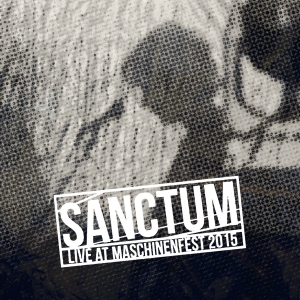 Album Title:
Live At Maschinenfest 2015
Release Date:
Wednesday, November 9, 2016
I will review two live registrations for Swedish act Sanctum, both being released via Raubbau. In a couple of days / weeks / millennia it will be a review on their performance on CBGB, but this review deals with their co-operation on the famous Maschinenfest happening in Oberhausen (Germany) on October 10th 2015. In 2004, Sanctum was part of the Maschinenfest line-up as well. By the way, Raubbau did release more stuff from that festival and I'll probably review some more of those releases. Oh yes, I recently also published a review for the re-release of the band's debut Lupus In Fabula (April 18th 2017), in case you're interested…
Despite quite a mainstream approach, Sanctum have always flowered quite well within the Swedish and international Industrial scene. Their presence has always been quite successful, but if you notice the excellence of their live performances, you'll understand why (besides the great song writing and studio recording abilities, cf. albums like Lupus In Fabula or Clarify).
Anyway, this last live gig out of a series of three on German soil, starts with the intimate Let's Eat (from the same-called album, their last on Cold Meat Industry) as introduction. I can imagine the arousal of the audience when experiences such fine song. With Shine, the band takes another track from that 2004-album, and both instrumental (digital and analogue stuff) and vocal appearance are experienced in its professional execution. I am sort of confused too, for there are some tracks that I didn't know, and still I have no idea where they do come from – but that does not matter; I can enjoy them right here, right now. So, to continue, I must say that I am not going to dissect every single track (out of eight), but I am just blown away by the magisterial Doom-Electronics composition Way Beyond, the 'duet' In Two Minds / Decay (to my opinion, two of the highlights on their debut album), or higher mentioned Shine.
Finally this: the sound quality. It's quite good, lacking of background noises (a modest applauding audience in between is acceptable; background sounds during the band's acte de présence would be unacceptable, but that's not the case), but I do miss some more 'power' in the final mix. But hey, it's a live registration and not a studio recording, so it does not really matter, does it. Anyway, I recommend this to those who like Sanctum's studio works, for it's another angle and that makes it interesting, is it not?!