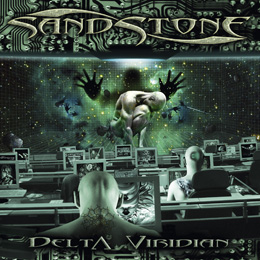 Line up:
Dee Kivlehan – guitar
Decky Donohoe – drums
Dave McLaughlin – bass
Stevie McLaughlin – guitar
Sean McBay – vocals
'Sandstone', a melodic metal band from Ireland returns with their fourth album 'Delta Virdian'.
The band was founded in 2003 by guitarist Stevie McLaughlin and singer Sean McBay. It's the first time I've heard from the band. They have a very own sound and there's a nice blend of several sub- genres such as power metal and bits of progressive metal in it witch gives the band a solid foundation for a great album. They begin with a instrumental intro and kick in with 'Almost Gratefull' with chunky guitar riffs pounding drums and the powerfull vocals of lead vocalist Sean McBay.
The song that stands out the most for me is 'red mist' with very progressive drumparts and astonishing guitar riffs. There are numerous occasions when the band takes things to a slower tempo in order to let the listener recover from the heaviness of the previous tracks. This can be seen through songs such as 'King Of Cipher' and 'Winter' in which the use of keyboards and strings helps to give these tracks an almost melodic composition. You can say that 'Transgression' is the ballad on the album very nice acoustic guitar pieces and nice clear vocal parts. To make things short, a solid album with many varieties in the songs. You cannot pin them down on one specific genre and that's good because than you have a wide range of metalfans to promote your band to.