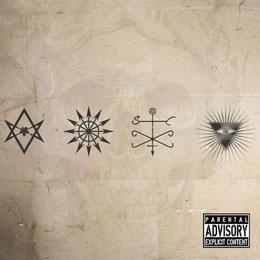 Santa Cruz is a Finnish modern hard rock band formed on the hot summer of 2007 in Helsinki by Archie Kuosmanen and Johnny Parkkonen. With the mutualaspiration of playing their rear ends off and kicking people's derrieres the two teens shared the same goals and similar same passion for a band to be. Inspired by greats as Skid Row and Guns N' Roses, the name Santa Cruz was chosen as the title of their vision of a perfect hard rock band. In the beginning of the following year, Middy Toivonen joined in to play the bass. A year and a half (and two drummers later) Taz Fagerström was found to man the drum throne permanently, cementing the line-up of the 4-piece band.
"We found the sound that defines us" Archie says about the decision to self-title their second album. "This sound came more natural to us" adds Johnny, who recorded and produced the album himself.
The first track of the album is called "Bonafide Heroes". Its melodic intro leads to an epic break-down followed by the track's main powerful guitar riff. Next "Velvet Rope" a catchy one, nice to play live! And than comes my favorite "My Remedy" (a single of the album), a lot of melody.
Nice but without goosebumps : 1,2,3,4,5..."6(66) Feet Under. You're about to get hit by a massive dash of adrenaline with " We are the ones to fall". "Wasted N' Wounded" the second single, headbanging is necessary! Also the last song is very satisfying ("Can You Feel The Rain") This song will surprise you in a very good way. It's a moving, melancholic hard rock ballad. Santa Cruz have created their own , personal musical style! Don't forget to give them a listen and support them!