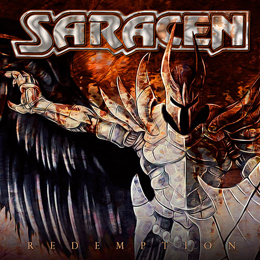 Release Date:
Friday, September 19, 2014
If you were around in the 80ies, and were a fan of rock music, this band's name might ring a bell.  They released their first album under the name Saracen in 1981.  There was a hiatus between 1984 and 2003, but in 2003 they again released a full length album.
This new album 'Redemption' clocks off at around 70 minutes, and contains 13 songs, two of whom are re-worked songs from their 1981 debut album 'Heroes, Saints and Fools'. What Saracen brings us is hard to label.  There are some very melodic rock songs, but also some heavier, almost metal like stuff.  Consistent element in their music however is the massive use of keyboards.  Actually this album sounds very 80ies, and brought back memories to that epoch, when so many obscure, yet great bands released albums that are nowadays near unfindable, or way too expensive.
 Like their previous album 'Marilyn', a very good album, highly recommended.