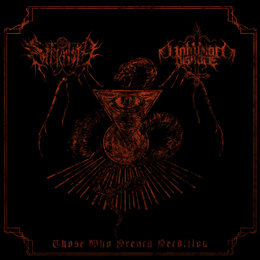 Album Title:
Those Who Preach Perdition
This year, Immortal Frost will release two splits with Sarkrista involved. In a couple of months (probably towards the end of 2014) there will be one with Forbidden Eye and Sacrificium Carmen, but first we have the mini-album with Unhuman Disease, one of the many projects by Nocturnus Dominus. That's the same guy, by the way, who's involved with Forbidden Eye (the band that will appear on the upcoming split I just mentioned).
Those Who Preach Perdition opens with two tracks by the German quartet Sarkrista (vocalist Revenant, bass player Vidar, guitarist Farbauti, and drummer Exesor). This band was formed in 2011 and debuted in 2013 with The Acheronian Worship (released via Misanthropic Art). Earlier this year there was a split with Finnish horde Sielunvihollinen (via the very same label) - FYI.
Sarkrista bring very energetic, powerful and hammering Black Metal of a most traditional kind, generally comparable to the Scandinavian Second Wave-trend, yet not limited to that specific current. The rhythms are pounding and fast-forward, with melodies that equal, in quality, many colleagues from Scandinavia, North-America, Poland and Germany. Besides, the production is a perfect example of how this kind of shit must smell: rough and rusty, primitive and uncompromising. For fans of everything in between, let's say, Sargeist, Judas Iscariot, End (the Greek one), Horna, Taake or Paragon Belial. 92/100
The other two compositions on Those Who Preach Perdition are performed under the Unhuman Disease-moniker by sole member Neil 'Nocturnus Dominus' Sequichie, whom you might know from higher mentioned Forbidden Eye, as well as, for example, Thornspawn, Black Devotion, Rituals Of A Blasphemer, Antichristian Kommando and some others. With Unhuman Disease, he recorded more than just a hand full of albums before, as well as a split (with Freitod, to be more specifically). This material was recorded quite a while ago at the Temple Of Bones Studio, but unreleased until this opportunity.
This material is rawer, faster and uglier than Sarkrista's, and much more 'primitive' in approach and attitude. …and sound… The hateful stuff is based on sulphur and venom, translated in an aural anti-orgasm of nihilistic morbidity (can someone explain me what I mean with this? Anyone at all?). No, seriously, the whole sounds much more necrotic, and the intros and outros do even add a suffocating sphere of horrific evilness. There are hints of earlier Darkthrone, Forest, Pest, Carpathian Forest and Neetzach, including the lo-fi grotesquery we're all craving for… 88/100
This album is: no trends, no gimmicks, no bull shit!