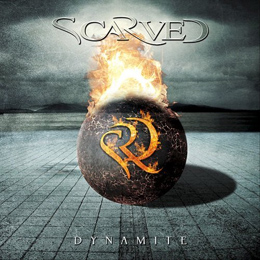 Hey hey...the return of an old acquaintance! Yep, although ScaRveD is but a recently formed act (came into existence in September 2012), its members are all seasoned ruts from the Belgian "Rock" scene, and the first time I came in contact with guitarist Luc Van Dessel goes back to my beginning years as a music journalist. It was in fact in 1986, that I came across him and his drumming brother Jan (they were playing a gig at the Alcatrazz Heavy Metal Festival with their "hobby" band Twilight Stone And The Boogie Clowns), a meeting which prompted the duo to hand over the debut album Brainwash of their band Tails Blue, an act which grew to some notoriety within the Belgian Symphonic Rock scene.
However, for the beginnings of the brothers' career, we would have to turn back the clock far further, namely to 1970, when the kids (aged 14 and 15 years only) start up their first band The Tails, playing a heavy Blues style which got 'em a first price in some talent contest. His put the duo in the spotlight to the point of some concert promoter organizing an audition with a still to be formed British band. The kids however decline the invitation, thus NOT becoming part of Supertramp! So the Van Dessel duo continued with their own band, with which they got a very strong live reputation in Belgium, and in '73 get a Silver disc for the sales of their album Live In Belgium. Shortly after, the band does its debut TV appearance, but regrettably the band dissolves a little later due to internal differences of opinion.
In 1975 the band is kicked back to life, with Willy Vissers as lead singer and bassist Ferre Cuylaerts (whom had been in the band before). Stylistically, the band now opts for a strong Heavy Rock comparable to the likes of Ted Nugent, Black Sabbath and Judas Priest, and through frequent gigs the band again builds a strong live reputation, becoming a frequent attendant of several middle-range Belgian festivals. The band releases the single Is This Your Day?, which sells relatively well, but not enough to attract major attention. In '77 the line-up is expanded with the addition of keyboardist Koen Berghmans, and drummer Jan wins a big contest which gains him the title of greatest drummer in the Benelux. In '78 however, the band falls apart due to musical differences (Willy would go on to form the more Hard Rock geared Victim), and with a stylistic change to a more Symphonic Rock sound the band decides to rename itself to Tails Blue. Due to the 3-man line-up (with Koen also taking on bass duties and Luc also singing) the band gets frequent references to Canadian act Rush and spends the first couple of years building a new live reputation. Then the guys record a demo in order to attract label attention, and Jan does a stunt playing a 78 hours drum solo, which lands him a citation in the Guinness Book Of Records with a Benelux drum record. It must've been around '80, when I first read about Tails Blue through a short report in youth magazine Joepie. Finally, in '82, some label interest eventually rises, but at the same time the band is confronted with the loss of bassist/ keyboardist Koen, whom is forced to leave the music world altogether.
At the end of '83 a new Tails Blue arises with keyboardist Luc Van de Heyning (formerly of the Symphonic Rock band Braintrust) and temporary bassist Willem Menheere (a former roadie of the band). For about a year the band works on a new sound which, although differing from the previous one, still can be called Symphonic Rock, and at the end of that Wim Wouters (aha...read on, read on, for more info) takes the position of bassist. In '85 the band signs a contract with American cult label New Renaissance Records, as a result of which two songs appear on a compilation album. And in '86 no less than then so-called bankrupt Belgian label Mausoleum Records puts Tails Blue's firstling, Brainwash, into the stores.
Now, I have to confess that I kinda lost track of what happened with the band after that, but Tails Blue became somewhat of a legend within the Belgian Heavy Prog Rock scene, and after the band's demise, Luc played guitar in several bands, including a successful covers band, and often worked as producer in the studio.
Time to pay attention to the other ScaRveD members, and why not start with Luc's oldest accomplice, Wim "Wowie" Wouters? Prior to his '84 induction in Tails Blue as bassist, this dude already made a reputation for himself, playing guitar with the Heavy Metal act Oracle. He then switched to the bass, and found his place with Tails Blue. After the band's demise, he continued to grow as a bassist playing in several bands, which included the same covers band which Luc was involved in. They also dropped out from that at the same time, dedicating their talents and attention to the formation of ScaRveD from that moment on.
Drummer Geert Mariën is another former accomplice of Luc's, the two having been part of the band Politicus Of Experience (he played his first gig, with that band, at the Vooruit venue in Gent, as support of Suicidal Tendencies). Following the POE experience, Geert grew as a session musician, working as freelance drummer for bands and artists from the Rock, Metal and Jazz scenes.
Finally, there's ScaRveD's lead singer Caro Verboven, whom started her career in the Dance scene, having been discovered as a young singer by major label EMI, who put her up to score two modest hits with the Dance project K-Line. She then found out that there was a world out there that wouldn't let her go, and with her heart set definitely to all things Rock, she eventually fell in with ScaRveD, finding her true musical aspirations come to fruition.
At (www.) scarved.be, you'll find the band claiming their music to be inspired – on the one hand – by Classic Rock, and on the other hand by the various streams from the Modern Rock, and describing the whole as a Hard Rock "of their own", with a whiff of Metal influences. Both Wim and Caro have contributed to the make-up of songs (which were all co-written by Luc) which, although might be described as a "Heavy Rock" in a general sense, show some variety nevertheless. Evidently, with such experienced and dedicated musicians, one must expect some subtle deviations, and Luc's Prog past definitely comes through in several songs (even if the end result is geared to the Heavy Rock genre). The guys also gave a couple of the tracks ("Valley Of Doom", the delightful "Eastern Treasure") a nice twisted intro, and another educated deviation from the "norm" comes with the semi-ballad "Silence", which is apparently dedicated to a lost (female) friend of Caro's, and brought with endearing passion. Thumbs up for Luc's great guitar solo in that song, by the way! To those with an aversion to female singers, I can only say this : except in said ballad (which obviously affects her personally quite deeply), Caro has a very steady voice. Actually, at first this female-fronted band loving music fan felt that to be everything but an asset for the band, but after having given the album several turns in the cd-player, I could not but conclude that she is in fact another of the strong-points of this great band! Oh, and by the way, about half of the songs at least, get very nice (harmonic style, mostly) vocal backings by either Luc or Wim!
For samples of all the songs, you can consult the "Music" section at the band's own website (address see above), and there might be some full-length tracks at the "Jukebox" section of the label's website (www.) sleaszyrider. com (I'm afraid I ain't certain, as I forgot to check it somehow). Anyway, it was sure nice hearing from Luc again. In a way, I hope he reads this review and get in touch with me, to let me know about the things he's been up to since we last saw each other. Ach, time for end conclusions...and the rating...