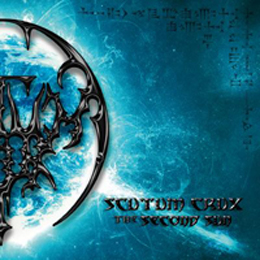 Release Date:
Saturday, November 23, 2013
The origins of London-based, yet Polish-rooted Scutum Crux go back to 2003, but it wasn't until 2011 before they released anything 'decent'. Their self-titled promo / demo drew attention of Belgian label Immortal Frost, and the band released its debut (and until now their sole full length, if I am not mistaken; anyway, do they still exist?...) via this great label. Anyway, the roots go back to a decade ago, when founding member (of Polish origin) Bartosz 'Demiurge' Jaszczyszyn (currently in Necrosadistic Goat Torture, and formerly of Besatt, Embrional and Adamante Nocturnum) started writing material for this project. In 2011 he joined forces with Englishman Svarth and fellow countryman Qvazaar Nebullah, and they recorded the sole album, The Second Sun, which lasts for thirty eight minutes.
The Second Sun opens with Reign Of Apzu, one of the nicest intros I've heard in years. It's a bombastic and orchestral Dark Ambient instrumental, and it might be a nice introduction to the rest of the album. Does it indeed?
Well, actually it does. As from Chaos Ritual, Scutum Crux perform that kind of Black Metal that defines the purest essence of the scene: raw, uncompromising, grim and oppressive Black Metal with lots of tempo-changes (though the focus lies on fast'n'furious), great melodies (including truly exceptional leads and solos), skull-crushing rhythms, and abyssal-rooted screams from the Underworlds. Despite not being renewing (once again: why the Hell -or Heaven, Walhalla, Nirvana, …-
should they?), the average quality of the song writing and execution is superb. Once again we're talking about a Second Wave-release, but with much more to express than 'the average'. It's not the variation in speed only what I'm referring too. It's not the fabulous addition of great leads either. Nor am I referring to the splendid introductions, like that nice synth-intermezzo in Demon Scutum either… It's all of it, the complete package, which brings so much more than the overload we have to cope with nowadays. In between those angry outbursts, Scutum Crux mix another floating Ambient piece (View From Nibiro), which isn't a filler but truly a monumental intermezzo that fits perfectly to the whole concept, and which bring a great moment of (relative) rest. But after that short instrumental composition, the aural expression of Scutum Crux' terrific expression smoothly continues by means of Under The Second Sun, a seven-minute epic which expresses blasphemy in its most virginal form (isn't that nice?). Besides, what to think about the grande finale of this specific composition?
The Second Sun has nothing new, renewing to add, nor comes this album with anything that is distinctive from the majority. But you can't ignore the superb song writing and excellent performance (and don't forget the nice sound), which makes this release an outstanding one within the disappointing grey masses we're overloaded with lately.