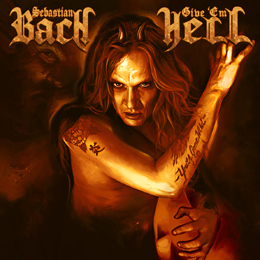 The older rock fans among us will undoubtedly remember that Sebastian Bach started his musical career in Skid Row, but before Skid Row  he was in another band called Kid Wikkid.  He fronted Skid Row from 1987 until 1996.  His first solo album 'Bring 'Em Bach Alive was released in 1999, it was partially a live album with songs from his Skid Row period, and partially a studio album, containing five new solo tracks. He also performed on some Broadway shows, and on TV.
But enough said about this man's past.  Let us review this brand new album.
I confess, I was immediately taken aback by this album.  It's veeery good.  Of course it's not only Sebastian that delivers a good vocal performance, but it has probably also to do with the aid of the other musicians he enlisted for this album.  Duff McKagan on bass (Velvet Revolver, Guns n' Roses),  and two good guitarists, John 5 (Marylin Manson, Rob Zombie) and Steve Stevens (Billy Idol), besides Devin Bronson (Avril Lavigne, Pink), also on guitars, and Bobby Jarzombek (Halford, Riot, Fates Warning) on drums.
It's really unbelievable that a guy that started his musical career over 25 years ago, and is about my own age (well, a few years younger actually), can still deliver an album that kicks you in the groin.  It's heavy, it's classy, it's begging to be played again and again.