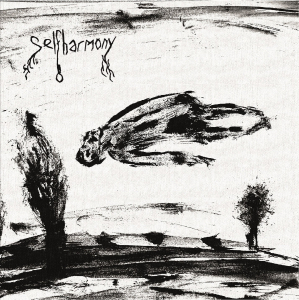 Receive, love and hate. Receive communion with me…
For a description about the Polish label Depressive Black Ambient Records, drenched in anesthetic pleasure and suffocating fumes, I would like to refer to one of the former reviews that I wrote for this unique family of coronated sinners and serpent magicians.
Also, when it comes to this act and the recording options, I'll keep it short. Selfharmony are a five-piece from Polish soil – or some abyssal wasteland beyond the underground out there. Apparently they did create several demonstrational and rehearsing recordings before, but this is my first acquaintance with them. This review does deal with this project's self-titled EP, which consists of four chansons, being released digitally as well as on pro-CDr; the latter being limited to one-hundred copies. All of these tracks have been written a while ago, and had been part as well of the Sorrow And Dread cassette-release. Remarkable is that unusual yet captivating cover artwork, done by some Panzerfaustyna: a simple yet 'rich', expressive black-and-white drawing (charcoal-painted?) that goes extremely well with the lyrical and musical side of the mini-album.
Anyway, Selfharmony call their musical approach 'True Depressive Screamo Black Metal', narrating about sensations and emotions related to daily life, relationships and personal struggles – lost emotions, entangled in life scenarios, as you wish. Unfortunately the lyrics are in the band's mother tongue. Yet then again, fortunately, we do have Google Translate. And indeed, with a textual approach that deals with loss, doubt, uncertainty, bitterness, as well as the will to go on, to go further, that description might make sense.
This EP lasts for fourteen minutes, yet despite the limited length, it's a monstrous and confronting experience for sure. It brings, in a way, a pugnacious form of DSBM (Depressive-Suicidal Black Metal) – not purely 'suicidal' yet quite related to –, but then again of an extremely energetic level. This stuff gets injected with elements from related genres like Blackgaze, Black'n'Roll and, why not, Screamo indeed. It's fast-paced, including many technically well-played leads and solos, a pounding rhythm section (the rhythm strings are both melodious as pushing-forward; the drum-patterns are incredibly varied and supportive) and the rawest, rustiest screams that spit sulfur and acid. That in a nutshell…
The four pieces on Selfharmony combine rhythmic structures with memorable melodies, including quite some variation and the necessary changes in speed and construction. The better part, however, is fast, differing from up-tempo to blasting. Once in a while, the whole turns little slower too; yet never the force and the energy give in. The mix is well-done, with all instruments being represented equally. At the very same time, the ambience itself is roughly unpolished, which fortifies the combative message. Because of that rough-edged production in combination with the catchy melodies, the strings do have a very grooving sound.
https://depressiveblackambient.bandcamp.com/album/dba-black-017-selfharmony-ep-2021
https://www.depressiveblackambient.pl/2021/07/dba-black-017-selfharmony-ep-2021.html
https://selfxharmony.bandcamp.com/releases
https://www.youtube.com/watch?v=mokmJadHdpg