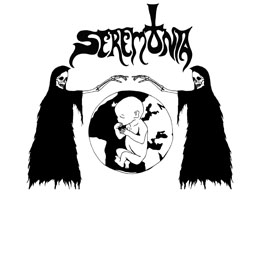 Release Date:
Friday, September 14, 2012
Seremonia (it's Finnish for 'ceremony', by the way) are a young quartet from Finland, consisting of female singer Noora Federley, Ville Pirinen (g, k, bv), Erno Taipale (d, g, flute) and Ilkka Vekka (b, k, bv and lyrics). Their self-called debut-album was engineered and mixed by Teemu Markkula, who's part of the band's live line-up, by the way, and it lasts for just over half an hour.
The album combines two things in a nice symbiosis: Seventies / Eighties Doom Metal / Rock à la Black Sabbath, Trouble and the likes at the one hand, and psychedelic, groovy Seventies Rock with a fuzzy, experimental undertone at the other. Proto-Stoner-Doom for a new generation??? And despite the approach that refers to a couple of decades ago, the whole is somewhat progressive and therefore quasi-timeless (yet with a focus on a 'three-to-four-decades-past-glory').
Nice element: the vocals (!!!) in combination with the lyrics, sung in the band's native tongue. I don't understand a single word of it, yet it gives the esoteric, psychedelic and shamanistic album a supplementary touch of triumphant passion.
Needful to mention: the splendid sound: unpolished yet pretty 'clean', as if this material indeed was recorded thirty / forty years ago…
Another remarkable and positive addition: the coherence in two aspects: between the songs (the album as a whole) and within each song (for the band did write the material as a collective).