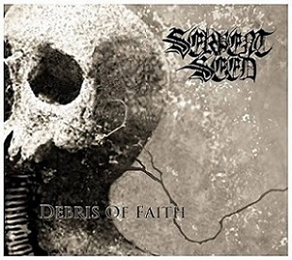 Release Date:
Tuesday, November 25, 2014
Serpent Seed are a pretty young Polish act (formed in 2012), with e.g. former Iugulatus and current Slain-drummer Wojtass in their ranks. They debut with Debris Of Faith, an album that lasts for thirty eight minutes, and that gets released by two Polish labels, The End Of Time Records and Under The Tyrant's Banner Prod.
Despite being a young act, it's the members' huge curriculum vitae and experience that causes the huge quality of the material on Debris Of Faith. And that's clear as from the very first moments of opener Demon's Blade. What these guys bring is another massive piece of Black Metal, rooted within the Post-Black scene as well as the Death Metal scene, yet with a sound and execution that reminds me a lot to a mixture of the first album(s) of Vesania and, if you want to stay in Poland, late-nineties Behemoth or Lugburz (Serpent Seed have a former Lugburz-member, which might explain a lot). There's quite some 'War'-Metal in sound and performance (which also refers to the Dutch or Danish scene), and quite some Dark Funeral / Watain-alike nastiness, yet reformed into these guys' own vision. What does all this mean? Well, actually, Debris Of Faith combines gritty melodies with harsh rhythms, quite some tremolo structures, an equilibrated symbiosis of tradition and modernism, and a truly massive sound result. Despite the fast rhythms, with a head role for the drum patterns, the compositions maintain quite some interesting variation, but that is needed when listening to such terrific and skull-hammering recording. Besides, there are quite some slower passages at the one hand, and old styled thrashing madness at the other too, and even some more 'experimental' (read: trans-passing grotesquery, a neologism I just found out to define genre-crossing majesty) excerpts, with the track Serpent Seed re-appearing in my mind over and over again.
Anyway, once again The End Of Time Records come up with fabulous stuff from Poland's soil. Everyone knows that this country houses many excellent acts, but this is one of those labels that seem to find, and sign, the better ones amongst them. And when it comes to this band specifically, well, they do convince with their debut, and let's hope there is more to come soon. Once again: recommended!