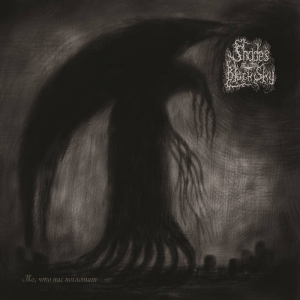 Shades Of The Black Sky are a solo-outfit by Russian musician Dmitriy 'Angel Of Sorrow' Rastorguev, who started this project in 2013. After a full length and two EP's, this guy returns with То, что нас поглотит (To, Chto Nas Pospotit), which consists of newer and older material. The album consists of four tracks that last in between sixteen and nineteen minutes (!) and it gets (got) released by Russia's Frozen Light in an edition of 500 copies.
And as from the very beginning, one can have an idea of what this material stands for. The opening track opens with a slow and desolate, self-repeating guitar melody, added by semi-acoustic guitars, slowly pounding percussion and, after almost a minute, a whispering voice. After three minutes, the whole turns grimmer and heavier, transfiguring into a mostly minimal and nihilistic form of funereal Doom-edged melody, quite primal and basic, yet pure and essential. Repetition remains a main character of Shades Of The Black Sky's Blackened Funeral Doom, and so are melancholy, integrity, desolation, depression, hatred and introspection. This project does not create something new, but it's quite impossible to refer to some other bands or projects specifically, for То, что нас поглотит sounds traditional and timeless, as well as universal. For sure the scenes from Finland, Sweden and, of course, Russia, might be of reference. However, with a piece like the title track, the whole turns into dimensions of abyssal darkness, and therefor it makes this composition my personal favourite out of the three original compositions. The bonus track too, with inclusion of little psychedelic piano and whispered voices, is close to outstanding (for as far as my personal opinion might be of relative value…).
I think a possible 'issue' might be the repetition and nihilistic approach. This specific kind of sonic unhappiness usually does not come with an overload on variation, but since the extensive length, some might get annoyed by the lack of diversity and the long-stretched iterations. I do not care that much, but I just must add this remark. The border in between dullness and the primal performance might be pretty close.
The sound quality is all right; not outstanding, not bad, but just fine. It's quite dense and muddy, with a mix especially based on the prominent guitar melodies and tremolo leads, putting the whole rhythm section as an elemental support on the background. But since the minimalism of both song writing and performance, it sort of fits.
Finally a word about the label, Frozen Light. Label-owner Alexander did send two hands full of new and little older material (this one, as well as Mindvoid's album Thundernoisespell, for which the review was uploaded earlier today as well, date from 2014), so you can expect several reviews as from now on. Expect Funeral Doom and Black Metal, Ambient, Drone, Industrial, Noise, and even some old schooled New Wave / Goth Rock…