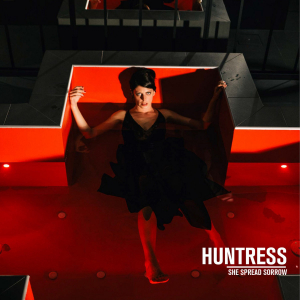 I do not think I did review any former release by She Spread Sorrow; at least, I can't find back any source. However, I do deeply appreciate the explicit material by Alice Kundalini, the 'brain' behind this intriguing project. Yet even-though I haven't reviewed any former She Spread Sorrow recording yet apparently, it is never too late to show my appreciation and dedication. Ergo: here's a review for this project's latest release, called Huntress.
Once again, this album gets released via the mighty label Cold Spring Records, one of the most open-minded ones for so many years. It's another conceptual album, inspired, if you want to, by Alice's nightmares, confrontations and visions, dealing with a young woman called Blue, who deals with psychological and mental issues. Blue is obsessed by another girl and an environment that is like a permanent confrontation with her passions, beliefs, wishes, jealousies and desires. 'between love and psychosis', a 'need to whisper secret, forbidden tales' […] 'exploring the boundaries between the delicate and the violent, between love and obsession, between fantasy and madness'. Do you feel the schizophrenia showing its sharpened teeth? The title aptly refers to the relationship in between the determined yet vengeful huntswoman and her prey.
The album Huntress once again brings a very ominous and haunting, even morbid form of (Power) Electronics / (Death) Industrial / (Dark) Ambient (a general approach, I admit; I'll go deeper into the matter immediately). It is created around different levels of synth manipulation in combination with very characteristic gloomy, mesmerizing vocals. These voices are like narrative whispers, yet with a menacing, ghostly/ghastly undertone. An absolute surplus is that this English-spoken dark poetry is very intelligible, thanks to two things: the sufficient pronunciation of Alice at the one hand, and the extremely decent, well-balanced production at the other. The latter, well, it's just remarkable how professional it seems, the basement build around electronic sounds and droning noises perfectly mixed with that semi-seductive, yet somehow portentous voice.
Dissecting all six elegies individually would lead me too far from the instinctive concept and intrinsic viewpoint of Huntress, for this album must be considered a conceptual narration with an organic course. It reveals a certain vessel filled with emotions; sentiments both darkened and enlightening, both possessive and vailed, both menacing and indulgent. Next to the outspoken vocals, the spine is created around electronic and ambient melodies – not 'melody' as in 'melodious', for the core is way too discordant and absonant in nature. It's rather like a coherent interplay of atmospheric structures, eldritch loops, industrialized drones, abyssal ambience, repetitious rhythmic sequences, and pungently cutting sound fragments. All this gets subtly yet continuously repleted with well-used elements from Ritual Noise and Power Electronics (so ingeniously penetrating the narrative with passion and modesty), dungeon-deep beats and frenzy percussion-like programming, discomfortable noises with a harsh character, roaring waves of Lovecraftian Dark Ambient, industrial mechanics and intoxicating soundscapes of mysticism and erotism. Great is that subtle balance in between a monotone and repetitive minimalism at the one hand, combined with a manic, vigorous and abundant monolithicism at the other.
A final word, for those who care. Huntress consists, as mentioned before, of six titles, which do clock forty minutes. There are a couple of vinyl formats (three different editions), there is a compact-disc edition, and of course you have the digitally downloadable possibility. Everything was done by this Italian lady herself: song-writing and lyrics, recording / instruments / voices, and even the production and mix (together with Luca Sigurta). The result got mastered by no one else but Martin Bowes at his notorious cage, while the lay-out had been taken care of by this label's long-time collaborator Abby Helasdottir (Nordvargr, Inade, Laibach, Troum, Skullflower and many more).
https://coldspring.bandcamp.com/album/huntress-csr282cd-lp
https://coldspring.co.uk/cold-spring/csr282lp
https://coldspring.co.uk/cold-spring/csr282cdlp
https://coldspring.co.uk/cold-spring/csr282cd
https://shespreadsorrow.wordpress.com/releases/
https://shespreadsorrow.bandcamp.com/album/huntress