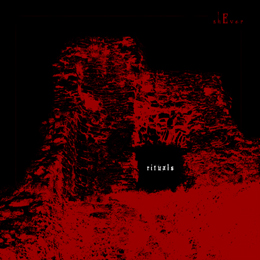 Hailing from Switzerland, shEver are a female Doom-formation that started almost a decade ago. After a demo, recorded shortly after the band's birth, they gained lots of positive responses all over Europe. No, not because they are all women (maybe just a little as well; being female might help sometimes ;o), but because of their nice song writing and impressing live performances. 2007 saw the first shEver full length, Ocean Of Illusions, and in 2009 the band released the highly acclaimed A Dialogue With The Dimensions EP.
This album, Rituals, was recorded in Spring 2011 and originally released on CD in May 2012 through Totalrust Music. For the vinyl-freaks, Svart Records gives the opportunity to enjoy this fabulous material on LP.
shEver's Doom is a grandiose mixture of Traditional Doom à la Saint Vitus and Sleep, the Sludge stuff in the vein of Ramesses, Neurosis, Rwake and earlier Unearthly Trance (maybe with a hint of High On Fire), old school-oriented Doom-Death / Death Metal in the vein of Asphyx and Impending Doom (the old-school Doom-Death / Death Metal pieces, of course), UK-Doom à la Cathedral, Droning Doom stuff aka the likes of Tombs, Yob, Stumm, Sourvein, Teeth Of Lions Rule The Divine or Lord Mantis, majestic hints referring to Unholy and even (earlier) My Dying Bride, dark-edged occultism in the vein of very early Opera IX, Murkrat or Bloody Panda, and funeral marches in the grimmest spheres of Wolves In The Throne Room, Woods Of Belial and Dragged Into Sunlight. Pff, it's all this, nevertheless none, and even more. It might be one of the many bands that do perform this kind of trance-ritual Extreme Music lately, but it's one of the most convincing ones as well. Therefor: highly recommended to fans of most higher mentioned bands / projects!
Another me like!