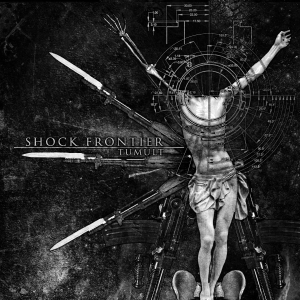 I was not trusted with the sound of Shock Frontier, though I do appreciate quite some other material done by Shock Frontier's half of the project, Robert C. Kozletsky. He is the guy behind the great Apócrýphos project (with excellent material on Cryo Chamber and Cyclic Law – enter a keyword in 'search' to find out some of my thoughts on earlier recorded stuff that was released under this moniker), and he was part of Psychomanteum before they split up. Robert also collaborated in the A Cryo Chamber Collaboration line-up, and in the Kerrstillingskostelzkynyströmpetrus project (with their impressive release Death Instruktions on Malignant Records) (PS: John Stillings took care of the mastering duties). As Shock Frontier, Robert wrote and recorded an album before, called Mancuerda Confessions, being released via Malignant Records as well (2013). The other half of Shock Frontier is Kyle Carney, whom you might know from Defiantly Fading (which did release a couple of albums via Kalpamantra).
The duo now returns, after more than four years of relative silence, with their second album, called Tumult. Once again released via Baltimore-based Malignant Records, Tumult is a nine-piece album, released on CD (six-panel digipack) as well as via digital sources (check the label's Bandcamp-page for more info on how to buy this material). And you know, it wouldn't be that stupid to refer to Shock Frontier as the evident Death Industrial edition of Apócrýphos. …at all…
The sonic journey starts with The Cold Illucid World, which features CMK. This eight-minute piece (three tracks are even longer) permanently evolves, with a wide range of structures and concepts. It opens quite ominous, like an apocalyptic warning, and when the voices join (after about one minute), you just understand that you're confronted with the ugliest visions of man's Inner Eye. It also marks a new approach, the addition of fateful lyrics / voices (with harsh screams involved too). The whole track remains dwelling within that suffocative emotion, like an aural translation of Giger's baphometian creations, but there are so many levels, so many layers. Shrieking noises, heavy mechanics, droning ambience and hypnotic disturbance, permanently interacting; this opener surely triggers. It is so fine to notice that the whole album is veiled within that very same, ultimately freezing and mesmerizing obscurity – hello Apócrýphos (referring to the glorious lack of light in atmosphere) – at least that is a surplus for undersigned. No matter whether a piece leans over towards intense Power Electronics, (Swedish-oriented) Death Industrial, or Ambient Noise, throughout the whole experience there's that asphyxiating, malignant (can't be a coincidence, using this description) emphasis of morbidity. Lovecraftian horror soundscapes, many samples (especially spoken words – a progression, as said before, compared to this project's debut album; I just adore, for what it's worth, the fabulous quasi-esoteric chants at the end of Once Assured Of Salvation, by the way), brain-polluting drones, militant drum beats, blood-soaked waves of sonic darkness and a harsh expression of anti-human negativity, this cacophonous and blasphemous masterpiece has a lot to offer, for it never bores one single moment. You're constantly agitated, when plunging concentratedly into this muddy and misty dimension of devastation and confusion. But that's exactly what makes this album so attractive.
Quite often, unfortunately, Death Industrial focuses on power and harshness, forgetting to add depth and atmosphere, and being based on the same contents. Well, that's not the case with this album – on the contrary. Tumult has a lot to offer. This goes for the incredible high standard, evidently, as well for the variety in combination with a prominent coherence. The latter, that cohesive aspect, is quite important, for the album deals with a concept of the negative nature of man and the influence of (bad) belief and the (fake) worship of a (false) higher order. This started with The Cold Illucid World, which I sort of dissected a little in a former paragraph, and it goes through majestic epics like Duress (a mostly sinister soundtrack), Once Assured Of Salvation, or the bewitching ritual Our Vain Illusion (what a fabulous percussion patterns!), until the last moments of the scarifying prophecy Tumult (which features Stromstad's Kristoffer Oustad, by the way). This title track might be the less 'harsh' in sound, but it is at least as intense and darkening as any other creation on this impressing recording. The vocal samples accompany the listener to the final solution, whether they chose for mass extinction or mass suicide in the name of an anti-god and anti-mankind religion. Amen!