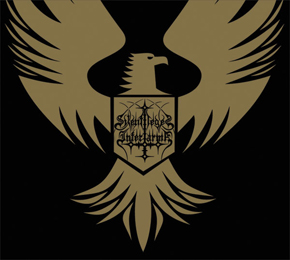 The German project Silent Leges Inter Arma was named after a quote by Cicero, a Roman philosopher and politician. It means something like 'laws in silence under the weapons'.
Anyway, this act, formed about five years ago, released an EP in 2009, called Synästhesie through Deviant Records, and this self-called record is Silent Leges Inter Arma's debut full length, having a total running time of forty six minutes.
I'll start with a minor detail: the sound. Unfortunately the production is much too messy. The album sort of sounds like being recorded in some hangar, or a garage box. Underground is one thing, negligence another…
But besides the production I cannot come but with superlatives. What this act brings is a mixture of grim, obscure and rough, unpolished Death / Black Metal, timeless (i.e. modern yet not modernised) and earthly, with sufficient variety (tempo, sphere and melody) and a couple of unique, quasi-outstanding elements in different aspects.
Regrettably, that production, 'cause otherwise…