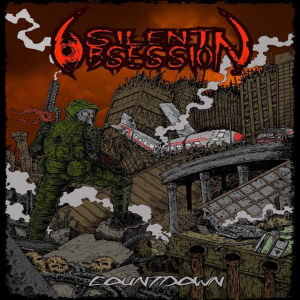 Silent Obsession are a young project (formed in 2017) from Algerian soil, formed by Max Marginal. At the end of Spring 2020, as a quartet, Silent Obsession independently released a first EP, called Lost. Now, about one year later (and a couple of minutes or so), the project finished a second EP with the working title Countdown, also independently released.
If I am not mistaken, Silent Obsession has been assisted this time by Lelahell's Redouane Aouameur on vocals (he is / was active as well with the likes of Death Throne or Pissjug, amongst several others). This second piece is a very short one, for it lasts for about six minutes: a very short intro and two 'real' (at)t(r)acks that clock almost three minutes each. But it does not matter, for the result leaves the listener blown away.
Once again, the conceptual focus lies on our beautiful mankind ('man' and 'kind', what a contradiction), humanity's disastrous presence on Mater Terra, and the all-devastating Apocalypse lurking beneath the surface, crawling out of the bottomless abyss. Man's would-be superiority and arrogance – enfin, I can philosophize as much as I want about misanthropic matters and the world's nastiest sickness called 'us', 'people', but let the Music do the talking…
As said, Countdown (a very fitting title for sure) starts with a very short introduction, Apocalyptic Manifestation. It brings thirty seconds of people screaming in agony and anguish, while thundering sounds overwhelm the cries of distress, sarcastically guided by an undaunted heart-beat. Short and right-in-your-face.
The real story however starts with End Of An Era, a whirlwind of Armageddon worship, combining technical and traditional elements that remind me of the glorious OSDM scene from three decades ago. Okay, it means a lack of originality in essence, but somehow these guys manage to put their own mark on the material. End Of An Era and Exhausted Resources have a specific melodious basic structure, but the execution has a specific progressive-technical thing going on. No, I do not mean 'progressive' as in 'Prog-Death', not that eclectic avantgarde stuff; I am rather referring to a high-tech song-writing and ditto performance, crafted by well-thought hooks and riffs, fingerspitzen leads and well-balanced rhythms.
The whole is quite varied, despite the recognizable approach. The tempo, for example, varies a lot: from speed-up over even faster, to blasting, including several pyroclastic eruptions. Still Silent Obsession are able to show a fine balance of that scorching speed (hey, mind the few decelerated passages as well!) and a non-exaggerated constructivity. Another example of the characteristic diversified execution is the interaction of guitar-led passages versus all-inclusive chapters, equally divided over both lullabies represented. Or what about the drum-work: sometimes supporting the whole with repetitive double bass-drums, then again manifesting with bone-crushing bruteness and avalanche-like vehemence.
The sound quality is of high importance, for the production and mix strengthen the compositions enormously. The production is extremely heavy-weighted and overwhelming. It lacks clinical politeness and shows a grim roughness, which fortifies the brutal message for sure. Besides, the equilibrium of all vocals and instruments is a decent one. This EP's mix pays attention to all sonic details. That's important, for both lead and rhythm instrumentation (vocals included, evidently) are equally segmented and admixed at the same time.
The vocals, by the way, are dual. At the one hand, you have those deeply-gurgling grunts, at the other rather raspy screams; but the symbiosis of both works well to spread the prophetic words of Apocalypse. Mortified, vanished. Embracing the insignificance of your existence. Facing the deny of your repentance. There is no turning back, but lament. Contemplating the ashes of those million dead…
In conclusion I dare to recommend this stuff to 'fans' of acts like Malevolent Creation, Decapitated, Cryptopsy, Spawn Of Possession, you know…
https://silentobsession.bandcamp.com/album/countdown
https://www.facebook.com/Silent-obsession-109984977066268/