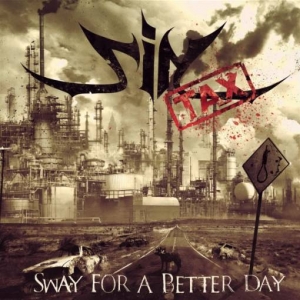 Sintax were formed at the end of 2010 in Jerusalem, Israel, by some members from acts like Birth, Salem, Sensorium (though I didn't think Nir was the original drummer, actually) and Shwortsechaye. In mean time, they gained an enormous fan-base in their home country, being considered as one of the most prominent live acts around.
On April 10th 2015, the band independently released its first album the official way, although I heard rumours that there was another recording before that actually got never released (?). The quite active Finnish label Inverse Records decided to have this stuff re-released with a more professional promotion and distribution.
Sway For A Better Day stands for quite American-oriented Thrash Metal, not only the Bay Area trend, yet more general, with a focus on the stuff from the eighties and earlier nineties – and at the same time in a well-balanced marriage with the modern currents going on lately. I'll explain. There is quite some elementary stuff that comes close to the creations of, let's say, Megadeth, Metallica, Testament, Exodus or the likes. At the same time, they have the more complex progressivity that characterises bands like Pantera, A Perfect Murder and even country-fellowmen Betzefer, as well. And it might be a mistake not to mention a certain groovy approach, reminiscent of acts such as Channel Zero or Engine Of Pain.
So far the good news. Unfortunately, despite the good ideas, the good intentions, and the good vibe going on, this material isn't convincing within a current, over-crowded scene. There are a couple of great moments, and these guys do really try hard – that's a certainty. But the lack of inspiration, of originality, and of outstanding 'classics-to-be', is disappointing. Opening sequences like in The Answer are promising, but eventually the actual result does not convince nor surprise. It's like a collection, I'm afraid, of some b-sides that didn't make it to official albums by higher mentioned acts. Once again, the intentions and persuasion is fiercely present, but the outcome does not satisfy at all.
So, is this a bad album? Well, to be honest it is not either. Those who adore Thrash Metal tout court will surely appreciate the energy, the powerful drive, and the complexness, on top of the band's honest attitude. But here it ends, and therefore I am afraid that this band's popularity in their home country will stay between Israeli's borders. I might be wrong – that's up to you, but with Sway For A Better Day, Sintax can't convince me.