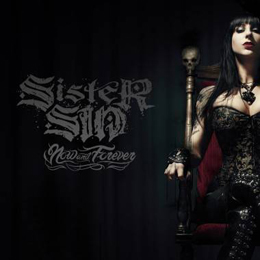 A couple of years ago - 2008- to be precise, I stumbled on a cd titled Swedish Sleaze and Rock 'n Roll (Swedmetal records 2006). Always looking out for new music I and since it contained tracks by Crashdiët and Babylon Bombs, I bought it. Listening to the sampler i discovered many good bands like Gasoline Queen, Bai Bang, Zan Clan and... indeed Sister Sin. Their two tracks "Writings On The Wall" and "Minor You, Major Me" became two of my favorites on the record. Somehow I didn't really hear from the band until now, with their release of "Now And Forever", their third for Victory Records.
With their third effort, the band succeeds in creating great metal songs with and edge of sleaze and 80's metal in a modern way. Somehow the bands guitar player Jimmy knows how to create those modern riffs that all have this 80's feeling over them. Just listen to "End Of The Line", "Fight Song" or any other tune and you'll understand. This well produced, raw and thrilling record will kick your ass! They end their record with a cover, "Morning After", earlier preformed by Randy Pipers Animal, but where they wrote it as a hard 'n fast song, Sister Sin gave it a totally different switch.
Now, any rock fan should at least give this band a try. Check 'm out on the Victorystream or any other place you can find 'm. For fans of early Cruë, Motörhead or WASP, this band –if never heard of before-  might be the discovery their looking for.