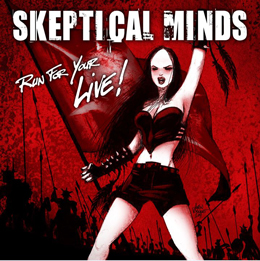 Release Date:
Saturday, October 18, 2014
Brussels-based act Skeptical Minds was formed in 2002, and in 2005 they released a first album, Rent To Kill, via FYB Records, the label that took, and still takes care of all (European) releases by this band. In 2010 there was a second album (Skepticalized), and throughout the past decade, there were some EP's and some live stuff too. Besides, the band was able to perform live on stage sharing experiences with the likes of Lacuna Coil, Moonspell, Epica, After Forever, Jon Oliva etc. They also played on the tenth edition of Metal Female Voices Fest, and the registration of that performance has now been released under the working title of Run For Your LIVE! The stuff's production was done by the band's long-time label, and the result was mixed at Noise Factory by Gérald Jans.
The twelfth edition recently came to pass, so I have no idea why it took so long. But that's of no importance right here…
The result is very satisfying, going for both performance and sound. The latter is truly great, for there are not that many live registrations that sound so organic and clean / clear. It's not that it all has been re-arranged by fake studio-mix adaptations; no, it just sounds decent, including some unpolished edges that define, and even strengthen, the live identity. Also the interaction with the audience has been recorded very decently. There is no background noise, yet a fine interplay in between the tracks.
The performance then… Well, in case you do not like the Electro-based Indie / Gothic Metal by Skeptical Minds, then you know what to do: leave now! The fans, however, will adore this material, for the execution of this quartet (singer Karolina Pacan, guitarist Michel Stiakakis, drummer Benjamin Lazzano, and bassist Patrice Brugneaux) is top-notch. There are no failures / faults to notice, as if the main parts have been taped and playbacked. Of course that has not been the case (I think so, at least…), but it's inspiring how professional this combo knows to perform live on stage. I have never been the biggest fan of Skeptical Minds, I have to admit, but if you notice how Karolina knows how to enjoy the audience (nice legs alone won't do…); and then, if you hear how new songs, like The Dictator, are able to catch the listeners' attention and happiness-to-be-there… Respect! Also the guest performance by Meden Agan's Iliana Tsakiraki on Broken Dolls (one of the best things ever created by this Belgian band, and performed just splendidly right here) is worth mentioning.
For the fans I have some additional good news to end with: Skeptical Minds are currently preparing their third full length album, which will see the light next year…