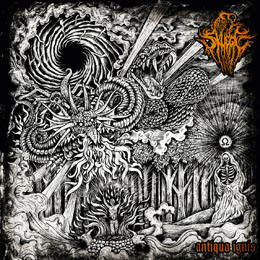 When Naturmacht Productions gave me the opportunity to listen to Knokkelkraft, the debut for Norwegian act Skygge, I swore eternal gratitude to this label. …kind of… Seriously, I was enormously impressed by this stuff conceived by multi-instrumentalist Frank 'Skyggemester Kuldegys' Bratten (formerly also in Viðr and Frozen Cries, by the way). On that album, and the same goes for the demo, this guy was helped out by vocalist Dáublódir, who left about one year after the release of the debut full length. It didn't stop Skyggemester to write new stuff, and when he met Adramelech, whom you might know from the likes of Svarthaueg, Astaroth or Dødsfall, he recorded the second full length, Antiqua Ignis. Then they signed to Belgium's finest Immortal Frost Productions, and this brings me easily to the following paragraphs of praise and honour. Damn, two guys hailing from 'the' cities of 'true Norwegian Black metal', i.e. Bergen (Skyggemester) and Trondheim (Adramelech), I cannot but be good…
And actually, once again it is! It is 'good' stuff. The album clocks nearly an hour, but not one single moment the attentive listener will lose his / her attention. The high quality gets clear as from the very first moments of the title track. Antiqua Ignis (the track) is a fast and furious piece with a noticeable 'Nordic' approach / execution, and even with a comparable sound: raw and unpolished, grim and merciless. It has something ominous and hypnotic too, caused by the sulphur screams at the one hand, and the rusty, slugging guitar melodies at the other. The rhythm section gives this track, and in extension the better part of the album, a feeling of unstoppable brutality, but this contrast (fierce drum patters versus melodious guitar riffing, and morbid bass lines in symbiosis with ghostly vocals) is truly well-balanced. With Apokalyptiske Visjoner, Skygge go even further. There is a lot of repetition (melodies and rhythm), but it grabs you by the b*lls (or t*ts) for sure. What's even more: this aspect makes the whole experience rather mesmerizing, and who am I to dislike such fabulous approach… This second piece, to continue, is pretty varying too, with quite a nice contrast in between the first and second half, but it never forgets about cohesion. Damn, it's hardly comprehensible to notice this isn't a full line-up band, but just a duo (a one-man army with a convinced vocalist). And of course, this is the way this album continues. Every track comes with quite a comparable approach, i.e. fierce aggression with a Norwegian face, including the characterising melody lines, but at the same time there is some much intensity and persuasion / craftsmanship too – not to forget quite some variety in the most open-minded definition you can imagine. Heks, for example, comes with some slower parts (amidst several thrashing, full-blasting outbursts!), but this just increases the oppressive obscurity of the whole album. Necro Attitude, then again, has more of a Hellhammer-meet-Limbonic Art interpretation of Taake-meet-Carpathian Forest (this might give you a clue?). And in Skyggen there even are some harmonious chants too.
Interesting too is the re-interpretation of Nocte Initum Imperium. The 'normal' version is, of course, a killer track, and maybe the most epic piece on this album (what a victorious riffs!), but the album ends with the so-called Necro Version of this piece as bonus. And 'necro', well, it is! It means that the sound is even more grim and raw, unpolished and uncompromising than the other (initial?) version.
Finally this: at the very same moment of release of this album, Immortal Frost Productions did release another album too, i.e. the re-issue of Abyssgale's Hegemon. The review will be updated one of the next days, but once again, but what else did you expect, you will read about a superb recording.