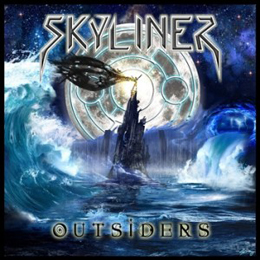 Release Date:
Friday, February 28, 2014
Skyliner originaly from Jacksonville, Florida. Formed in the year 2000 playing Heavy/progressive/power metal. But they making music that you normally expect from Europe. Current members are Ben 'The Ben' Brenner (drums, percussion), Jake Becker (vocals, guitar), Ashley Flynn (keyboards) and David Lee Redding (Bass).
After these years making two demo (light Comes Out of Black, Skyliner), one Ep 'The Alchamist' now their first debut full LP 'Outsiders'. And yes you buy 75 minutes of music on one album more power metal than heavy metal but ok. This album is not a typical metal album some parts are more technical metal. The album starts with "Signals" is a pretty intro leading up to the next song 'Symphony In Black' Maybe to make a new sphere to get in and listen the rest of the album. The average time of the next song are 7 minutes pretty long for metal music. You can feel and see the story in their songs a musical tornado combining tempo, progressive influences, epic moments, great vocals and classic riffs in a technical way. And then last but not least to close the cd a master epic peace of 21 minutes and this song make the album so interesting to buy and listen. This album you must have in your collection!