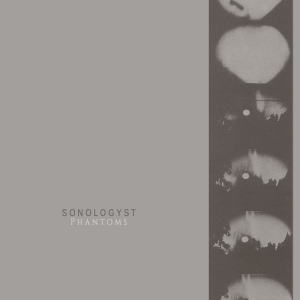 In my introduction for Sonologyst's Silencers (The Conspiracy Theory Dossiers) (link below), I had a brief yet fitting description on this project and its frontman, Raffaele Pezzella, who also runs the labels Unexplained Sounds Group and Eighth Tower Records, besides The Recognition Test (radio show). Throughout all of these activities, there's one general thing that repeats itself: the story of experimental sound-creation and sonic experimentalism. It might be evident that this review, dealing with a new album by Raffaele's most active and best-known solo-outfit, follows the very same direction.
Phantoms is a ten-track album, released the digital way and on compact disc. The CD-edition is a digipack with extremely sober artwork (white – sepia – black), designed by the mastermind behind the project himself in collaboration with Francesco Di Stasio. Raffaele took care of song writing, recording (voices, computer / keyboards, trumpet and sampling / noises), engineering, mix and mastering. The album gets released via his own Unexplained Sounds Group label.
Phantoms is another experimental and abstract work, a symbiosis of field recordings and samples, noises, low-tuned drones, minimal ambience, cinematic Musique Concrète and glitchy Electro-Acoustic Music. The 'tracks' are like a collage of sonic elements, mingling found sounds with synth-processed melodies – oops, I actually wanted to add 'melodies', but that is an exaggerated statement, for Sonologyst do not create a melody, but an aural experiment.
The whole has quite a dark nature, nicely balancing in between modified industrialism at the one hand, and rather organic flows of Drone / Ambient at the other. Electronic devices, sound manipulation, but also the addition of (unusual) instruments, like Azzax (a weird bow instrument) or trumpet, are canalised into a symbiotic organism that both confuses and frightens. The level of discomfort is huge (though, in some masochistic way, it is attractive too), wrapped within a post-technological or, if you want to, post-tribal package. The last track, however, called Orient Out Of Tune, is the sole one that does not need that eclectic approach to convince; on the contrary, this composition is unbelievably dark and oppressive, less experimental but rather abyssally obscure and haunting, trespassing the border of Dark Cinematic Ambient and Ritual Drone.
I usually do not adore this specific (sub) genre at all, Experimental / Musique Concrète / Avantgarde, but this Italian artists succeeds, time after time, to prove the opposite, to prove that I might be mistaken, that I might underestimate this specific scene. Raffaele somehow is able to put that necessary 'thing' into his collage of noises, and the result withholds a certain level of acceptability and attraction. Distortion and pulsating energy, a physical experiment translated into a psychic level, canalised through sonic symbolism and aural constructivism, Phantoms is a love-it-or-hate-it record for sure. But those who do not fear spiritual discordance with an open state of mind are kindly asked to plunge into the mud bath that characterises this piece.
https://sonologyst.bandcamp.com/album/phantoms
https://unexplainedsoundsgroup.bandcamp.com/album/phantoms
https://www.concreteweb.be/reviews/solologyst
https://www.concreteweb.be/reviews/various-artists-heresy