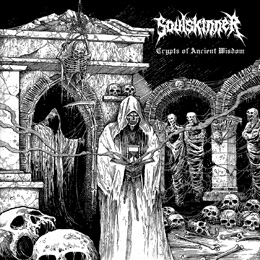 Release Date:
Tuesday, February 17, 2015
Greek act Soulskinner was formed almost two decades ago under the Terra Tenebrae-moniker by members involved with e.g. Thou Art Lord and Necromantia (!). The band recorded and released several mini and full length albums (as Terra Tenebrae and as Soulskinner), showing their passion for the Old School. And still now they pay tribute to the early years, when our globe started being sonically infected by the nastiest sounds of the Underground.
Crypts Of Ancient Wisdom was recorded entirely by original members Gothmog (vocals and lyrics) and Bill Zobolas (all instruments, music, production, mix and mastering), and lasts for forty six minutes. It's the band's first album in seven years (there were some split-contributions in mean time), with great cover-artwork (by Mark Riddick once again).
The album starts with an untitled intro, acoustic, sober, calm-paced and integer, before having this album gone to 'reality': uncompromising, grooving and rhythmic Death Metal from the most brutal Old School. No, it does not bring anything original or renewing at all; on the contrary, and that might be the major problem, it sounds dated, heard-it-before, even inspirationless. That's a pity, because the intentions are the right ones. I have never been allergic to old styled stuff. But sometimes I crave for something more – that little thing that makes a recording sound at least as interesting as the protagonists. In this case I am still hungry. It's not that I am bored at all. It's not that I am frustrated either. But Crypts Of Ancient Wisdom isn't but a collection of previously performed rhythms and riffs, without almost any surprising moment whatsoever. Since this band consists of quite some experienced members, it's extra disappointing not to hear anything 'more', anything at all that makes the listener think 'waw'… (I am aware this is quite a plastic description). The second half of the album does convince me more, for it consists of stronger, more empowered songs with a huge Doom-energy. And there's no doubt about the skills of both guys involved, of course.
There are bits of Asphyx, later Carcass, Unleashed, Bolt Thrower, Gorefest, Winter and Cannibal Corpse, which isn't a bad thing of course. Actually, and that's my final conclusion, this is not a bad recording, but seen the members' huge experience, it might be little disappointing.