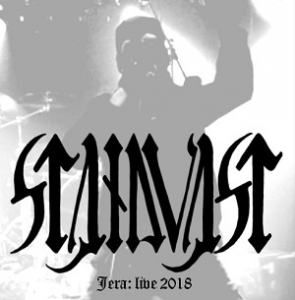 Release Date:
Saturday, September 1, 2018
From the underground for the underground!
Hailing from the far North of the Netherlands, Standvast (which means something like 'steady' or 'steadfast', yet in a proud, unwavering and unyielding point of view) were formed in 2015 by vocalist / lyricist Rödulv (you might know him from Tarnkappe) and instrumentalist Nortfalke (also in Tarnkappe, and active in e.g. Gheestenland, Kjeld or Lugubre too). Since they did work with each other before (cf. Tarnkappe, as well as Kaeck), it took not too long to create a first album together, which saw the unlight in early 2016 via Holland's finest Heidens Hart Records. a year and a half later, the duo contributed on the split Triad with two other sweet outfits from their neighbourhood, Helleruin and Volc Vermaledide. That split was released via Werewolf Promotion, a Polish label that also re-released the debut album. And that very same label now also co-operates in the release of the band's first official live recording, Jera: Live 2018, joining forces with another excellent Dutch (Black) Metal label, The Ritual Productions (for both labels I did write a few hands full of reviews before).
Jera: Live 2018 was recorded in the city of Groningen, home to the band, on February 23rd 2018 in a pub, known for its Metal possession, called Witte Wolf ('white wolf'). It gets released on compact disc in a series of 500 hand-numbered copies, including an eight-page booklet with fine black-and-white pictures from the gig. Nortfalke (guitars) and Rödulv (vocals) were assisted live on stage, by the way, by Mortifero on bass (+ female backing vocals; she's part of the new band Iced, and assisted in several local bands before as bass player / vocalist) and drummer Carchost (active in e.g. Locus Amoenus and the guy behind Helleruin).
The tracks are taken from the debut and the split, which means that quite a big part of it is 'sung' in the band's mother tongue, Dutch. And I am impressed by the skilled performance of all musicians included. There barely is something negative to say about the play itself, for these guys (and woman) did a great job on that live gig for sure. Everything reeks of the original studio recording. Standvast brings quite fast, intense and energetic Black Metal with a typifying Old School attitude (no trends, no gimmicks), and in its rawest form, you cannot but adore it. It withholds a thrashing force, strengthening that Second Wave-influenced majesty, and it is remarkable to notice the grandeur of performance throughout the whole concert. And what it makes it even better, is the sound quality. Okay, this is not a studio album, clearly not. The band actually recorded it with a f*cking DIY attitude. But the result is quite acceptable. No irritating background noise, no 'hollow' sound whatsoever. Vocals, drums, guitars and basses, all are clearly distinguishable (too often you do not hear, for example, the bass lines, or the drum patterns overrule the guitars – not in this case!). The organic symbiosis result in a fine audible experience. And the audience (a frenzied crowd of thousands of fans, evidently) is only audible in between the tracks, which is a good thing, of course. So, in conclusion I dare to say that this recording represents a gig that must have been cool. And cool means hot indeed!
Houd stand!