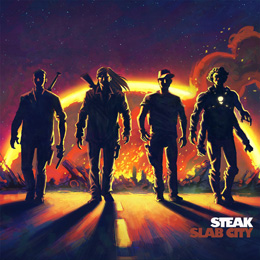 Release Date:
Friday, September 5, 2014
Hailing from London, UK, Steak was founded in 2010 by a foursome of musicians who took musical influences from the greater bands in the Stoner Rock, Desert Rock, and Fuzz Rock genres.
Usually musicians in that genre take themselves rather seriously, but Kippa (singer), Reece (guitar), Cam (bass) and Sammy (drums) took a self-relativating look at themselves, and created these alter egos for themselves, which they portrayed in the comic artwork of their first releases [the EP's Distronaught (5 tracks, released May 2012) and Corned Beef Colossus (also 5 tracked, released late May 2013)]. In the comic strips, and as their alter egos, the foursome fight the evil forces of Evil Lazarus, and manage to do such with a humoristic touch.
Stylistically, the band is described as "Dry, groovy Stoner Rock, inspired by genre greats such as Dozer, Freedom Hawk, Fu Manchu or of course the almighty Kyuss, associated with a few spacey influences from the psychedelic Monster Magnet corner"...and that fits surprisingly well! If you're still uncertain as to how that should sound, best place to listen to some music (for free) would be (www.) last.fm/music/Steak...or go see 'em live, of course! The band did a short tour in Europe (on a foursome of shows, really) early December of last, and I really couldn't tell you what they're up to at the moment (internet connection failing, see?)! Great stuff, this!!!