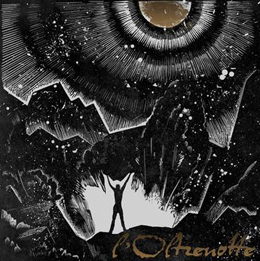 Italian trio Sterbenzeit (little confusing, for their moniker is German; it means 'moment of dying' or 'time to die') returns with their sophomore full length, this time on Belgium's Underground-label Immortal Frost Productions. Sterbenzeit were formed in 2006 by guitar player / vocalist Necromorg (think: Lost Inside, Etnom, Atrum Extemplo, Nox Interitus etc.), and they were part of the Three Ways To Live In Pain-split (with Mexico's 78424325 and USA's Managarm), released via Self Mutilation Services. Their first full length saw the light in 2010. Werdet Leiden was released as well via higher mentioned Mexican joy-and-happiness-label SMS. L'Oltrenotte is the second full album, having a total running time of forty two minutes, and it was recorded at the Necropalace Studio with Tenebrae In Perpetuum / Chelmno / Beatrik / ...'s Vidharr as engineer. They joined Immortal Frost's roster in early 2013, and the release comes in an edition of five hundred copies.
In comparison to the former material, this album's basic structures and execution are merely rooted in the 'traditional' Second Wave-inspired Black Metal style, while the Depressive / Funeral elements are of lesser importance. But the most important (although, that's my opinion) comparison with the past is the sound, which is still deeply grim and raw, spitting on modernism or trendy would-be professionalism. I glad to notice that this element did not change…
Being extremely 'traditional' or 'Second Wavy', this stuff lacks of progressive techniques, but it focuses on the perfect equilibrium melody - aggression. The rough material is mostly mid-tempo over fast to blasting, with inclusion, of course, of several slower passages, as well as a couple of acoustic or semi-acoustic excerpts. There's a huge so-called Nordic atmosphere, with Burzum, Windir, (early) Satyricon or earlier Dimmu Borgir coming to mind, but without being a cheap copycat-edition of any of these (great) bands (despite totally lacking of originality; but who cares about 'being renewing' if the essence, the roots, the basics and traditions are way above average when talking about song writing and performance…). So once again; if you are looking for 'original' stuff, just skip it; if you're searching for depressive, suicidal material, you won't find it either right here (anymore). But if you can't get enough from the essence of Black Metal in its most pure definition (let's make abstraction of the eighties' scene, please…), you will adore L'Oltrenotte!
FYI: via Immortal Frost you can buy the official Sterbenzeit t-shirt based on this album's concept, but it's strictly limited (to thirty copies only) - in case it must interest you…