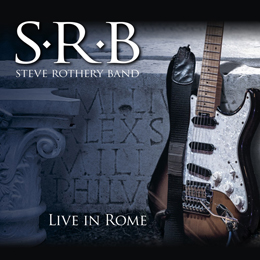 Anyone even slightly interested in Progressive Rock would find it difficult to get around the band Marillion, which in fact is the most successful act to have emerged from Britain's 1980s Neo-Prog Rock scene. Marillion's guitarist, Steve Rothery, happens to be the band's longest running member, having joined in 1979 at the age of 23, when they were still called Silmarillion.
Steve began to play the guitar at 15, and was introduced to Prog Rock through the Alan Freeman show on BBC Radio 1, which at the time meant gearing away from his friends of that era, as they were all getting into Punk music. Stating the likes of David Gilmour (Pink Floyd), Steve Hackett (Genesis) and Andrew Latimer (Camel) as his biggest influences, and considering Jeff Beck as an inspiration, Steve at first concentrated on playing techniques, and was later additionally influenced by Joni Mitchell's use of open tunings and harmonically rich sound. But he didn't incorporate, say even concentrate on that kind of playing, until he was enrolled as Silmarillion, and thus developed the type of play he is famous for today.
During his career, Steve was approached twice about a solo project. The first time was during the recordings of Marillion's 1985 album Misplaced Childhood (major label EMI making the offer), the second time was when the band was recording its Brave album at Miles Copeland's castle in France (Copeland making the offer). He declined the offer each time, and eventually chose the hard way by starting the Wishing Well duo (singer Hannan Stobart being the other participant), which released two albums (1996's Carnival Of Souls and 2009's Ostara).
The idea for this new solo project under his own name, was born when Steve was rehearsing, in October 2013, for a show at the annual international guitar festival in Plovdiv, Bulgaria. The band for that event included guitarist guitarist Dave Foster (of British band Mr. So & So, a band which released 5 studio albums so far – Dave himself also released a 2012 solo album entitled Gravity, and is in fact a longtime friend of Steve's), bassist Yatim Halimi (whom, prior to moving to the UK and becoming a member of The band Panic Room in August 2010, was a renowned session player for performing artists in Asia – his original homestead being Singapore), and drummer Leob Parr (drummer for 27 years, and that professionally since 1998; recorded 3 albums with Mr. So & So, and the 2002 album Go Gently with Leeds based act ohnson House – has also been session artist on recordings for Nick McCabe of The Verve, Gerry Donahue of Joan Armatrading and George Harrison fame, and is currently the resident teacher at Manchester Drum Center; according to Wikipedia, he also holds a former membership with the band Mosque).
On Nov. 25, 2013 (Steve's 54th anniversary), an announcement came that work on material for a solo album had been started, and that funding for the production and recording of it would be done by a crowd-funding through Kickstarter. In order to promote the funding campaign, an audio recording of the Bulgarian show was posted on Steve's website (released unofficially on CD in February 2014), and such is the esteem which the Prog Rock scene holds for Steve, that the £15,000 target was reached within 24 hours of the start of the campaign...in fact people went on to send in contributions resulting to the campaign raising near £60,000! The studio album also includes contributions by Steve Hackett (on 2 songs) and Steven Wilson (of Porcupine, on one song). Keyboardist Don Airey is also mentioned in the label's info sheet, but without extra details.
But...this is about this 2-CD+DVD digipak live album, which was actually released about a month prior to the studio album, isn't it? Well, it was recorded during the band's second gig, as performed at Rome's Cross Roads Live Club, earlier this year, following the ending of the recording sessions. As mentioned, the package includes two CD's (and a DVD, but don't kick me in the butt if it also comes in other formats, with the CDs and DVD apart), and the CDs actually divide two parts of the show, the first one of which included 6 of the 7 tracks (the title song not included) of the Ghosts Of Pripyat album (tracks, because they're not songs and completely instrumental). For that part, the original foursome is enhanced to a fivesome with the addition of keyboardist Riccardo Romano (of the Italian Cinematic Rock act Ranestrane – known throughout Italy as a producer and engineer, he actually mixed the audio for the live album). For the second half of their show, the band chose to bring a couple of songs from Steve's past, and therefore one Manuela Milanese was used to perform the Wishing Well songs "Waiting To Happen" (which opened the song part of the evening) and "Sugar Mice" (which comes in the set later). For the vocals of some Marillion songs ("Afraid Of Sunlight", "Easter", and "Cinderella Search"), one Alessandro Carmassi was called upon the stage. The set is closed by two tracks with an Italian title ("Materna Luna" and "Monolith Pt. 2"), the first an instrumental, the second a song with Italian lyrics. Both tracks also having a slightly different undertone, I'm guessing the band decided to close their set that evening with a couple of tracks from the Ranestrane material.
Of course, the label did not allow us to view the DVD, and so there's not a lot I can tell about that, except perhaps that, for some obscure reason, "Sugar Mice" was cut from the track-list. However, as the band has done some more shows with Ranestrane, there's also quite some live videos made (those, apparently, with one Martin Jakubski on vocals?) and posted at YouTube. For a link (?), go to (www.) steverothery.com, where I guess you can also find a link to listen to the album (if not, the studio album is posted at Bandcamp, where you can download the album's opening track "Morpheus" for free – no idea whether you can actually also listen to the other tracks, so dó check out!).