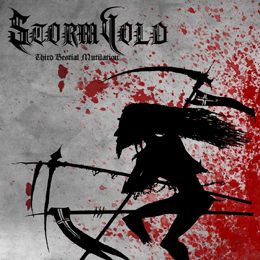 Release Date:
Friday, November 14, 2014
Once again Xtreem Records surprises the worldwide audience with a great release. 2014 truly was a top-year for this Spanish label; check the many positive reviews undersigned did for them full of wonder and respect. Transcending Obscurity is part of that trend too by doing great promotional work for this label by Dave Rotten. This Stormvold-release will just continue that great nice trend…
This project, hailing from the Canary Islands, didn't release anything 'huge' until now. They are named after the famous, quasi-cult demo Stormvold by Norway's Molested (some of the members later joined Borknagar or Gorgoroth), which was for sure an important source of inspiration for this project. The demo material (First Tibicena Brutality and Second Guanche Massacre) had been compiled before under the First Storms-moniker (early 2014, via Schattenkult Produktionen), and this 'old' stuff is part of this compilation once again. This compilation also includes some new tracks which were recorded at the famous Necromorbus Studio under the working title of Third Bestial Mutilation, supposed to be the band's third demonstrational effort.
Third Bestial Mutilation, and then I mean this whole demo-compilation, lasts for thirty six minutes, and what sole member Ebola (ex-Cryfemal / ex-Indomitus / Muert / …; recently he recruited a drummer for permanent collaboration, by the way) brings with this outfit, is some pretty intense nastiness. This morbid and no-nonsense Death Metal is rooted within the old schooled tradition, including the fierce and thrashy solos, the deep-guttural grunts, the harsh yet somewhat melodic riffs, and the massive rhythm section. The new songs are more of the straight-forward and so-called 'Morbid Death'-trend, while the oldest material was little more focused on primal tradition, especially when it comes to the performance techniques.
Stormvold lack of originality, yet still they try to add an own twist to the stuff. I can't exactly define what it is, because it's the combination of little details, and therefore the totality that makes them little distinctive from the grey masses nowadays. They are not one of those semi-tribute bands trying to revive the spirit of the early Swedish of American approach (note: there is nothing wrong with that either, yet there are so many same-minded bands lately); I think they're rather comparable to the things collected and released via labels like Invictus, Blood Harvest or Iron Bonehead; I mean: the less technical, yet much more abyssal and obscure side of the old styled majesty.
Fans of Blasphemy, Sarcófago, Beherit, Profanatica or Necrovore have been warned: Stormvold did arrive and will conquer the throne!