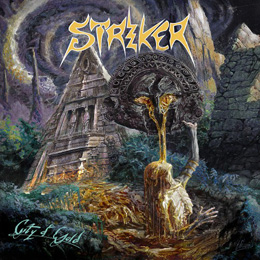 Striker is not exactly a new name in the Metal scene, seeing as bands with that name go back to the early '80s in the US, first an early Power Metal act which only left us a 1982 single before splitting up, then a Heavy Metal band from Florida which gave us a single in 1985. In the late '80s a Heavy Metal act came from Amberg (Bavaria) in Germany (they had a first run from 1988 to 2005, and then regrouped in 2010). 2009 saw the formation of an Austrian Thrash Metal act, but their status is currently uncertain...and then there was also a Hard Rock act from Seattle!
Hailing from Edmonton, Alberta, the Canadian melodic Heavy/ Power Metal act known under the monicker of Striker started life in the year 2007, with a line-up from which today only singer Dan Cleary is left. To his credit, it has to be said that some of the other original members (guitarists Ian Sandercock and Chris Segger) departed in relatively recent times (2013 and 2014 respectively). To put the picture straight from the get-go, current guitarist Timothy Brown (also known from Shadowblade, Sixguns Over Tombstone, and formerly of Kobra And The Lotus and Villainizer) entered the fold in 2013, bassist William "Wild Bill" Wallace started his tour of duty in 2014, and Adam Brown (also of Sixguns Over Tombstone, and formerly of Cauldron) has been bashing the band's drum skins since 2010.
The band, possibly after a first line-up change (on the bass and drums positions), released its first recordings of the 4-tracked Demo in 2008, and in March of 2009 saw their 6-track debut EP Road Warrior released in limited edition (only 525 copies made) through Iron Codex Records, who also released the band's full-length debut, April 2010's Eyes In The Night. In May 2011 the band digitally released the one-track single "Fuck Volcanoes", and the guys rose to fame, when they signed to Napalm Records in early 2012, finding the recordings for their sophomore album Armed To The Teeth (released on July 7 of that year) being taken care of by multi-platinum producer Michael Wagener (known from having worked with Metal giants Metallica, Ozzy Osbourne, Skid Row, to name but a few). By then, the band had already successfully done three European tours, crossed throughout Canada twice, and the 2010 debut album had gotten a nomination in the category "Best Metal Band" at the 2011 Indie Awards. Armed To The Teeth put the band even more in the spotlights, especially after Metallica invited 'em as direct support for its two sold-out shows at Edmonton's own Rexall venue. A world tour followed in early 2013, spreading the name Striker to true Heavy Metal fans all over the globe!
Time for a description of the band's sound, right? And the label's does a great job at that, telling us to "Imagine a mixture of Exciter and Savage Grace, intertwined with newer influences of Steelwing or Enforcer"! Is such a mixture possible at all, and just how should one analyze the description? Well, for starters the music is relatively speedy overall, but it does of course include somewhat calmer (no exaggerations, though!) passages. The lead guitarist throws in a multitude of solos and lead parts, which enhance the melodic side of things, and bring in an "epic" feel at times! On top, you get lead vocals with a true "siren" quality, and the harmonic backings only embellish things further. The whole is backed by a rock-steady rhythm section...and producer Fredrik Nordström has mixed everything to perfection, allowing each element an equal opportunity to come to the fore, should the listener be inclined to single one of 'em out!
What with the album having been released 7 months ago (at the time of writing this), the band's of course already been places with its new material, and the Tour Of Blades already found the band roaming European venues in September and October of last. The guys were to be part of the North American Thrash Invasion Tour (with Onslaught and Artillery) in October and November of last, but due to events beyond their control, that wasn't happening! No idea what the band's been up to lately, so perhaps it would be good to check out the available info at (www.) striker-metal.com...where you can also listen to previews of songs off the new album, and where you'll also find possibility to listen to a couple of older tracks. At the band's facebook page, you'll find additional older material, and some videos to boot. Enjoy!